Allison Bible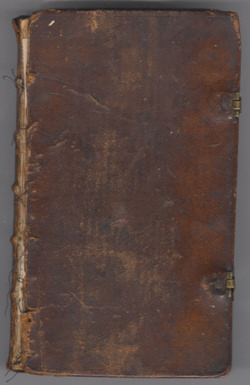 Erbauliche Lieder Sammlung Zum Gottesdienstlichen Gebrauch in Den Bereinigten Evangelisch Lutherischen Gemeinen in Pennsylvanien Und Den Benachbarten Staaten, Germantaun, Michael Billmeyer, 1795.
This is an interesting piece. It is not a Bible per se, it is a psalm book or hymnal I suppose, printed in the German language in Pennsylvania. Notes inside hint about a relationship to President McKinley's ancestors (his mother was Nancy Allison), but I have found no proof of that. The book itself is in good condition, with all pages present and in good condition. The original binding clips are present and the spine is in great shape. The front board is detached and there is wear to the leather.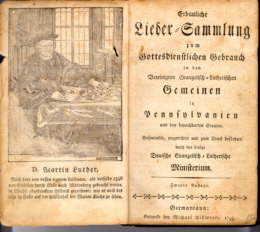 Transcribed by and in the possession of Tracy St. Claire,
tracy@stclaire.org.

SURNAMES:
ALLISON
ALESON
JAMES
HARMON


-----------------TRANSCRIPT STARTS-----------------

[Page One -- Front Flyleaf]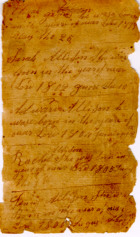 Elijah James Allison he wase born in the yeare of our lord 1797 [maybe 1799] May the 25
Sarah Allison She was born in the year of our Lord 1802 June the 10th
Edward Allison he wase born in the year of our Lord 1804 January th 2
Rachel Allifon was born in the year of our Lord 1805 July the 8th
Jenny [??] Allison She was Born in the year of our Lord 1806 August the ??
[Page Two -- Front Flyleaf]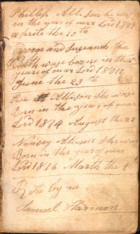 Phillip Allifon he was in the year of our Lord 1809 Aprile the 10th
George and Susannah ther Both wase borne in the yeare of our Lord 18012 June the 23th
Eve Allison She wase Born in the year of our Lord 1814 August the 22
Nancey Allison She was Born in the year of our Lord 1816 Marth the 1th
Rotte by me Samuel Harmon
[Page Three -- Front Flyleaf]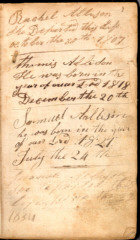 Rachel Allison She departed thy Life October the 30th 1807
Thomis Allifon He was born in the year of our Lord 1818 December the 20th
Samuel Allison he was born in the year of our Lord 1827 July the 24th
Susanah Allifon She departed this life June the 22 1834
[Page Four -- Rear Flyleaf]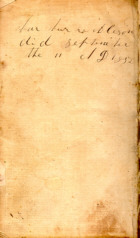 bar bur re Aleson [Barbara Allison?]
died September
the 11 A D 1852
[Piece of paper added to Bible, early 20th century]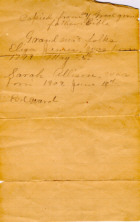 Copied from my Great grandfathers Bible
Grandma's folks
Elija James, was born
1779 May 25
(1799--?)
Sarah Allison was born 1809 June 10th
Edward
[Piece of Paper added, late 20th century]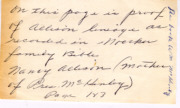 on this page is proof of Allison lineage as recorded in Noecker [??] family Bible
Nancy Allison (mother of Pres. McKinley) p 143

[Other pages, mostly handwritten transcripts of other pages in this Bible--
this person's interpretation differs from mine]