Aulabaugh Bible
The Cottage Bible and Family Expositor, Baltimore, Case,
Tiffany and Burnham, 1841. This is volume 2 only of a 2
volume set.
This Bible is in good condition. The binding is original, solid and
intact. The original marbled endpapers are present but the front
ones are detached. Plenty of foxing and some signatures are
coming loose.
The 1880 US Census has Absalom (working as a plasterer) and
Amanda living in Conowago, Adams County, Pennsylvania. Both
of their birthplaces are listed as PA.
Misspellings below are in the original, not marked with [sic].
Transcribed by and in the possession of Tracy St. Claire,
tracy@stclaire.org.
SURNAMES:
AULABAUGH
JOHNS
-----------------TRANSCRIPT STARTS-----------------
[Page One --Front Flyleaf]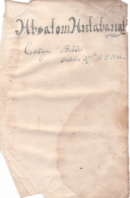 Absalom Aulabaugh
Cottage Bible
October 27th A.D. 1841
[Stamp -- A. S. Aulabaugh]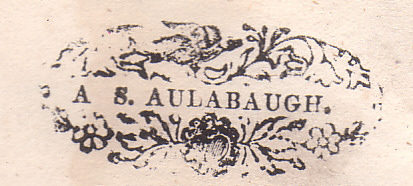 [Page Two -- Marriages]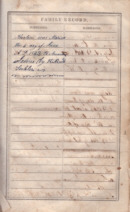 Absalom was maried the 4 day of June A.D. 1842
to Amanda Johns by the Rev. Sechler [note: the 1842
looks like it overwrote 1843]
[Page Three -- Births]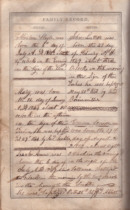 Absalom Slagle was born the 5th day of July A.D.
1818 about six oclock in the Evening in the Sign of
the Lion
Mary was born the 12 day of January A.D. 1844 about
too oclock in the afternoon in the sign of the Fish
She was baptized Feb. 29th 1844 by Rev Sechler
Sarah Ann was born the 6 day of July A.D. 1847 About
too oclock in the morning in the sign of the Steer She was
baptized Oct 28th 1847 by Revd Albert
John Luther was born the 23 day of Febuary A.D. 1849
about three oclock in the morning in the Sign of the Fishes
he was baptized May 30th 1850 by Revd Rosinmiller
Emma Louisa was born the 29th day of August A.D.
1852 [the 2 might be something else] about eight oclock
in the evening in the sign of the ballance Babtized by the
Revd Jacob Sechler
[Page Four -- Births]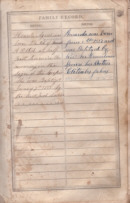 Henreta Agnes was born the 25 of November [December
crossed out] A.D. 1856 at half past seven in the morning in
the sign of the scorpio She was Baptized January 7th 1858
by the Revd Jacob Sechler
Amanda was born June 8 the 1817 and was Baptized bt Revd
M. Drumbower Sponsor her Mother Elithabes Johns
---------------END TRANSCRIPT----------------