Bachmeyer Bible
The Holy Bible, Containing the Old and New Testaments.
Baltimore, James Dugan. No date, but it conforms with the
late 19th century Victorian Bibles. It says "...in the year of our
Lord, One Thousand, Eight Hundred..." on the marriage page.
It has no color plates, so I assume it is as old or older than their
marriage date in 1874. No reference in Hills, or an others I
could casually find. Very large Bible with silver clasps, in good
condition. Cover detached and spine loosening, but all original
and nothing missing.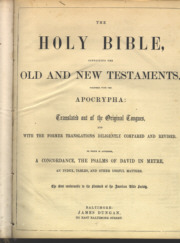 This Bible was acquired by Randi Kiessig and passed on to Tracy
St. Claire. It is currently in Tracy St. Claire's possession and will
be passed on to a descendent. tracy@stclaire.org
I combined pages two and three in transcribing for easier understandability.
SURNAMES:
BACHMEYER
KRAUS
WAY
SCOWCROFT
WILLIAMSON
JANDER
-----------------TRANSCRIPT STARTS-----------------
John Bachmeyer to Mary Kraus March 30th -74
Andrew L. Bachmeyer to Mary Way April 3rd 1901
Leonard C. Bachmeyer to Alice Scowcroft Oct. 14, 1903
Harrison K. Bachmeyer to Mabel Williamson, Feb. 17th 1904
Andrew L. Bachmeyer to Clementina Jander Nov. 19 - 1949
[Page Two/Three -- Births/Deaths]
Andrew Lewis Bachmeyer Born on Carpenter St December
25th 2 oclock AM 1874 Germantown
Died October 9th 1953 650 W Glenwood Ave. Wildwood N.J.
Lottie Bachmeyer Born on Carpenter Street February 8th
Tuesday morning 12 oclock M 1876 Germantown
Died April 6th 1948 650 W. Glenwood Ave. Wildwood N.J.
Harrison Keyser Bachmeyer Born February 20th 1878 on
Pastorius St. Germantown Wednesday morning 6 oclock AM
Died December 10th 1972 650 W. Glenwood Ave. Wildwood N.J.
Leonard Chester Bachmeyer Born on Wednesday at 6.30 P.M.
on Pastorius St Germantown January 29th 1880
Died February 8th 1955 R.D. #3 Box 140 Sumter S.C.
John Bachmeyer Born July 24th 1845 New York City New York
Died August 15th 1904 at 528 W. Sedgewick St. Mount Airy
Mary Bachmeyer Born September 14th 1845 Township Line
Germantown
Died June 24, 1925 at 519 E. Walnut Lane Stn.
[Page Four -- Memoranda]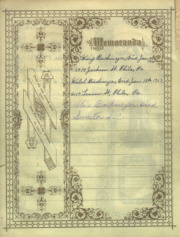 Mary Bachmeyer, Died Jan. 4th 1938 5219 Jackson St.
Phila, Pa.
Mabel Bachmeyer, Died Jan. 12th 1953 6117 Lensen St,
Phila, Pa.
Alice Bachmeyer Died Sumter S.C.
[Photographs]
The photographs on the backs of both on the marriage
certificate say "John Bachmeyer". I assume it is John
Bachmeyer and Mary Krause, as there are also numerous
photographer notes on the reverse. The other photograph
is unidentified. The photographer for all is Franklin
Photography in "Manaytnk".

------------END TRANSCRIPT-------------------------------