These items were found in a leather wallet. The genealogy notes were
clipped from a Bible, I believe. The paper is consistent with the weight
used in the family record pages in Bibles, and on the horizontal scrap
you can see where the printed line was.
The wallet appears to have belonged to William Gibson Barnett, and
possibly to his father Samuel previously. It is just a scrap of leather
folded over, holding some evidences needed to settle the estate of
Samuel, I am guessing. I cannot determine the location of this family,
but this was purchased from a Canadian ephemera dealer (thanks,
Ben!) so it is quite possibly not United States. One possibility is
Washington County, PA -- that is the location of all the Liverton Thomas
people I could find, and many people by the name of Barnett (including
Samuel) lived there.
As a side note, I believe that these entries were constructed for the
purpose of him proving the dates. Bible records were used for that purpose
back then, and I think when he examined the Bible, he might have said
"Oops!" and added in the missing enties. Not that those entries were
outright lies -- although they might have been -- but they are out of sequence
and obviously done at the same time. Look at the elaborate detail in
recording William's birth, and the cursory detail in the subsequent entries.
And they all conveniently align for him to cut out in a square, with no
entries on the back.
SURNAMES:
BARNETT
-----------------------Transcript Starts-----------------------
[Bible Page One]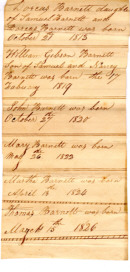 Dorcas Barnett daughter of Samuel Barnett and Dorcas Barnett was born
October the 21 1813
William Gibson Barnett Son of Samuel and Nancy Barnett was born the
17 Febuary 1819
John Barnett was born October the 27 1820
Mary Barnett was born May the 26 1822
Martha Barnett was born April the 13 1824
Thomas Barnett was born March the 15 1826
[Bible Page Two]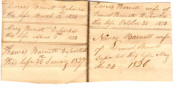 Dorcas Barnett Departed this life March the 12 1823
Mary Barnett Departed this life April the 1 1823
Thomas Barnett Departed This Life the 25 January 1827
Dorcas Barnett wife of Samuel Barnett Departed this life October
25 1813
Nancy Barnett wife of Samuel Barnett Departed this life May
the 24 1826
[Promissary Note #1]

December 3 1855
Three months after date I promise to pay Samuel Barnett seven
dollars with interest from date it being for value received witnefs
my hand and seale Abm ?? Dederik
[Promissary Note #2]

One day after date I promise to pay Samuel Barnett five dollars and
forty six cents for value received as witnefs my hand and seal
January 14 1859 H G Marcy
[Promissary Note #3]

Six months after date I promise to pay W. G. Garrett administrator
of the estate of Samuel Barnett dec'd Eight dollars and fourteen cts. for
value rec'd as witnefs my hand and seal this 9th June 1861
Christian Garrett Esq [???]
[on the receverse it says rec'd on the within note five dollars &
fourteen cents Aug 22nd 1861 Wm G Barnett Adm]
[Promissary Note #4]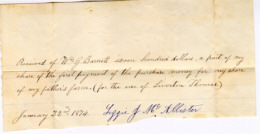 Received of Wm. G. Barnett seven hundred dollars, a part of my
share of the first payment of the purchase money for my share
of my father's farm. (for the use of Liverton Thomas.)
January 22nd 1874. Lizzie J. McAllister
--------------------End Transcript----------------------------------