Bedford Bible
The New Testament of Our Lord and Savior Jesus Christ,
Oxford, Printed at the University Press. OT title page missing,
so the above is taken from the NT title page. Undated. Leather cover
stamped British and Foreign Bible Society, Tenpence Reduced
Price. I would estimate early to mid 1800s based on that price.
Has "Watkins Binder" stamp on inside back cover; that stamp
might also help date this Bible.
This Bible is in fair condition. The covers are still attached, but
several pages at the beginning and end are missing. Bible starts
with Genesis 4:19 and ends with Revelation 19:17.
There are several different handwritings here. The first two entries look
like they were written at the same time, but the rest look individually
entered.
Transcribed by and in the possession of Tracy St. Claire,
tracy@stclaire.org.
SURNAMES:
BEDFORD
WEDAN
-----------------TRANSCRIPT STARTS-----------------
[Page One -- Inside Front Cover]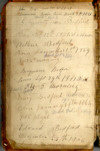 John Bedford Born Nov 4 1831
Susannah Bedford Born March 8th 1826
died 1904
Elizabeth Ann Bedford Born Feb 12th 1858. at 1.55 morn
Arthur Bedford Born December 1st 1859 5-25 morning
died Oct 2 /36
Benjamin Bedford Born Sept 29th 1861 4-5 morning
Died March 6th 19/08
Mary Bedford Born January 18th 1864 7-15 Night
Died Oct 11th 1934
Edward Bedford Born December 25th 1865 1-45 morning
[Page Two -- Inside Back Cover]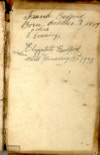 Frank Bedford Born October 8th 1867 5 Oclock Evening
Elizabeth Bedford Wedan Died January 12th 1938
---------------END TRANSCRIPT----------------