Bender Bible

The Holy Bible Containing the Old and New Testament,
New York, G. Lane and P.P. Sanford for the Methodist
Episcopal Church, 1841. No mention in Hills.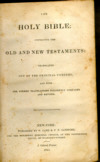 This Bible is in very good condition. Binding is tight and
without damage, and the pages are in good condition as
well. The names are written lightly and sometimes
illegibly, so please check the scans for your own
interpretation.

There are many interesting things placed in this Bible.



Transcribed by and in the possession of Tracy St. Claire,
tracy@stclaire.org.

SURNAMES:
BENDER
NINEDOLLOR


-----------------TRANSCRIPT STARTS-----------------

[Page One -- Front Flyleaf]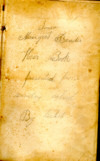 Susan Margaret Bender
Her Book
presented from Sunday school By tickets

[Page Two -- Front Flyleaf. The top is very lightly written,
which is not readable by me. It refers to Bender, sunday
school and tickets]


John Bender died April the 8 day of April 1874 Age 82
years old

Mrs. Elizabeth Bender died 2nd day of January 1875 aged
73 years

[Page Three -- Back Flyleaf]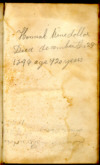 Hannah Ninedollor Died december the 25 1896 age 72 years

David Bender Died August 26 1855

[Page Four -- Back Flyleaf Writing Upside-down in Book]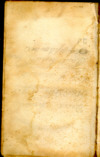 David Bender Born 35 the year 1818 8 day of March

Jane Bender born 20 of September

---------------END TRANSCRIPT----------------