Benington Bible
The Complete Family Bible Containing the Sacred Text of the
Old and New Testament ... with Notes... By Francis Fawkes,
M.A.. London, Printed for the Author and Sold by J. Coote,
MDCCLXI. (1761). This volume has only the New Testament,
and lacks leaves prior to Chap 2:2, and appears bound that way.
No references this early to a Fawkes volume in either Herbert or
Darlow & Moule.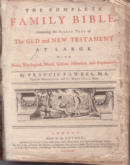 This volume is in good condition, with binding intact, but I see
evidence of repair. The spine reads
FAWKES
ON YE NEW
TESTAMENT
and lacks leaves as above, possibly more because I cannot find
a reference to verify one way or another.
The inscriptions below are on the inside front cover. I would
assume from this that the twin boys born in 1753 did not survive,
owing to the birth of another child so quickly.
Transcribed by and in the possession of Tracy St. Claire,
tracy@stclaire.org.
SURNAMES:
BENINGTON
-----------------TRANSCRIPT STARTS-----------------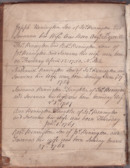 Joseph Benington Son of Jos Benington and Susanna his Wife
was Born Augt 25th 1750 O.. [old style, apparently]
Thos Benington and Robt Benington Sons of Jos Benington and
Susanna his wife were born on Thursday Aprill 12: 1753, N. Stile
Nathaniel Benington Son of Jos Benington and Susanna his wife
was born Monday June ye 17th 1754
Susanna Benington Daughter of Jos Benington and Susanna his wife
was born Monday Aug. ye 8th 1757
Ann Benington Daughter of Jos Benington and Susanna his wife was
born Thursday Jany 1 1761
Robt. Benington Son of Jos Benington and Susanna his wife was
born Sunday March 27th 1763
---------------END TRANSCRIPT----------------