Blizzard Bible
This Bible was submitted by Tara Hawkins.

This Bible was up for auction on eBay in March 2003. The seller gave permission for the following photographs and transcriptions to be submitted to this site. Transcribed by Tara Hawkins.
Description:
A beautiful Leather Family Bible with many full-page illustrations in color and black & white. It is also in wonderful condition for this age Bible. Covers and spine modest rubbing with covers corners rubbed through. Name of original owner bottom edge front cover M. E. Blizzard. Binding is sound and covers well attached. It has a front claps but the latch that holds the two covers together is missing. This Bible is about 12 3/8 inches high by 10 1/2 inches wide and a huge 5 inches thick in good condition. This Bible being the parallel column Edition. The Holy Bible containing The King James and the revised version of the Old and New Testaments, Arranged in parallel columns with a complete concordance, embracing every passage of scripture in the largest editions, The Psalms in Metre, 100,000 marginal References and readings, with Dr. Wm. Smith's standard Bible dictionary, Concise history of all religious denominations. The Parables of our Lord and Saviour, handsomely illustrated. The Study of the word of God. The whole embellished with 2000 scripture illustrations on Steel, Wood, and in colors. --- W. H. G. Kirkpatrick, Philadelphia, PA. 1886.
SURNAMES:
BERKHOLDER
BLIZZARD
MUNCEY
SLAUGHTER
VEASEY
------------------------------------------------------------------------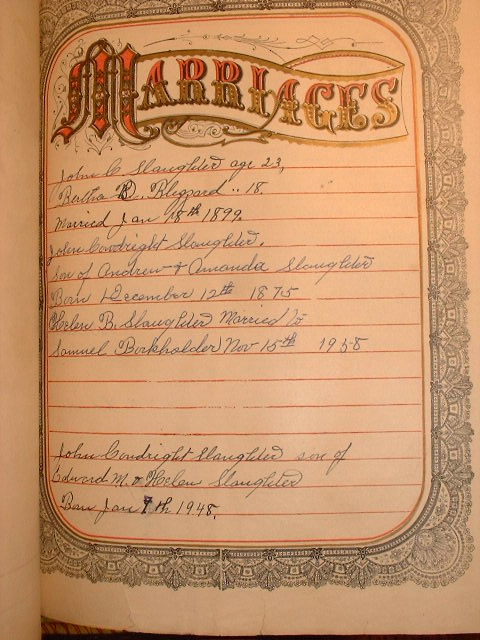 Marriages
John C Slaughter age 23,
Bertha D. Blizzard " 18
Married Jan 18th 1899.
John Condwright[?] Slaughter,
Son of Andrew & Amanda Slaughter
Born December 12th 1875
Helen B. Slaughter married to
Samuel Berkholder Nov 15th 1958
John Condright[?] Slaughter son of
Edward M. & Helen Slaughter
Born Jan 7th 1948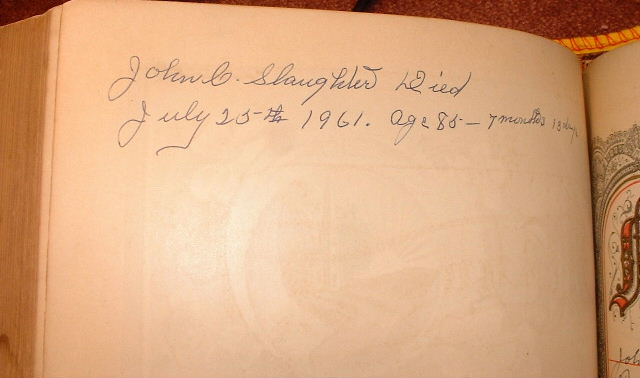 John C. Slaughter died
July 25th 1961. Age 85 - 7 months 13 days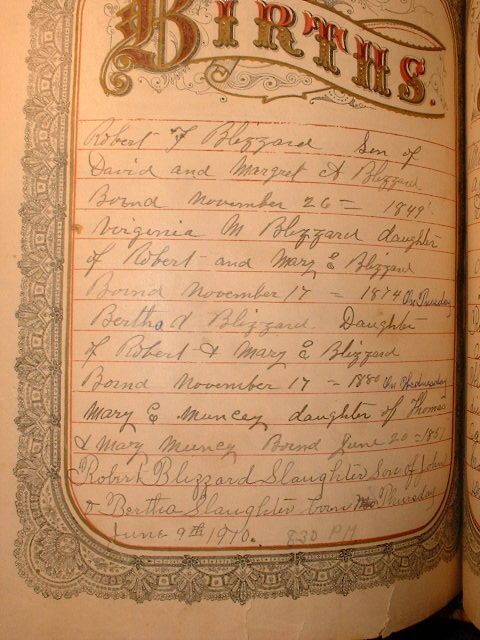 Births
Robert F Blizzard son of
David and Margret A Blizzard
Bornd November 26 - 1849
Virginia M. Blizzard daughter
Of Robert and Mary E. Blizzard
Bornd November 17 - 1874 on Tuesday
Bertha A[?] Blizzard daughter
Of Robert and Mary E Blizzard
Bornd November 17 - 1880 on Wednesday
Mary E. Muncey daughter of Thomas
& Mary Muncy bornd June 20 1851[7?]
Robert Blizzard Slaughter son of John
& Bertha Slaughter born Mo[crossed out] Thursday
June 9th 1910 8:30 PM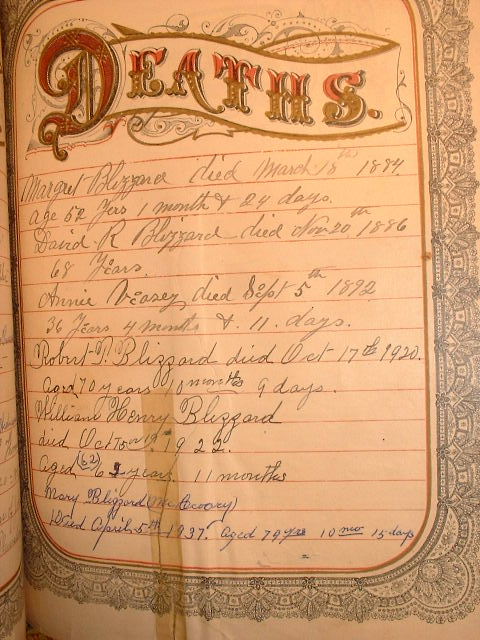 Deaths
Margret Blizzard died March 18th 1884
Age 52 yers 1 month & 24 days
David R Blizzard died Nov 20th 1886
68 Years
Annie Veasey [?] died Sept 5th 1892
36 Years 4 months & 11 days
Robert T. Blizzard died Oct 17th 1920
Aged 70 years 10 months 9 days
William Henry Blizzard
Died Oct 15 or 19 1922
Aged (62) 65 [could be 62] years 11 months
Mary Blizzrd (McC..ry)
Died April 5th 1937 Aged 79 yrs 10 mo 15 days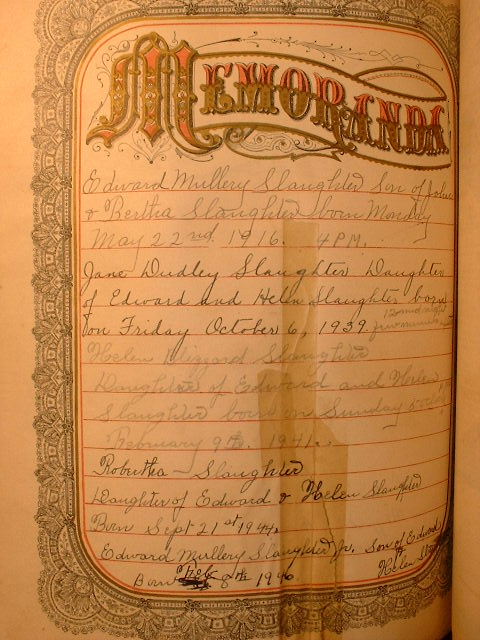 Memoranda
Edward Mullery Slaughter son of John
& Bertha Slaughter born Monday
May 22nd 1916 4 PM
Jane Dudley Slaughter daughter
Of Edward and Helen Slaughter born
On Friday October 6, 1939 12 midnight few minutes [?]
Helen Blizzard Slaughter
Daughter of Edward and Helen
Slaughter born on Sunday
February 9th 1941
Roberta Slaughter
Daughter of Edward & Helen Slaughter
Born Spet 21st 1944.
Edward Mullery Slaughter Jr son of Edward & Helen Slaughter
Born Feb 8th 1946