Bradbury Bible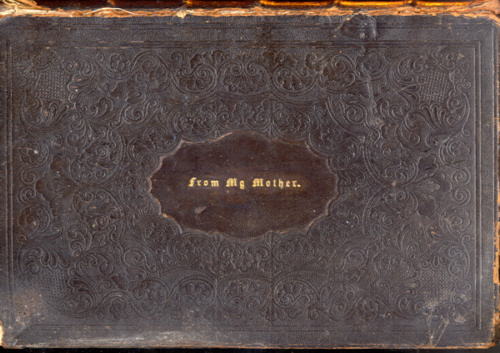 The Holy Bible Containing the Old and New Testament,
New York, American Bible Society, 1854. No exact match in
Hills.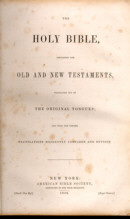 This Bible is in very good condition. Binding is fairly tight and
and the pages are in good condition. The cover is solidly on, but is
seeing through to the bindery ropes. There is some minor spine
damage with a small piece missing at the bottom. There is some
edge scuffing to the boards. There is still bright gilding on the edges
of the pages.
The cover has "from My Mother" gilded on it.
The Bradbury family is found in the 1880 US Census in Guilford,
Chenango County, New York. All family members were born in NY,
George's father was born in England/mother in New York, and
Weltha's partents were both born in Connecticut.
Transcribed by and in the possession of Tracy St. Claire,
tracy@stclaire.org.
SURNAMES:
BRADBURY
MORSE
DAUCHY
NASH
WILLSEY
DIXON
DAY
-----------------TRANSCRIPT STARTS-----------------
[Page One -- Marriages]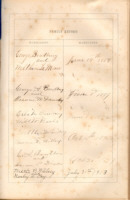 George Bradbury and Weltha Morse
June 14th 1854
George A. Bradbury and Frances W. Dauchy
June 1t 1887
Ella W. Bradbury and Will W. Nash
June 1t [or 9] 1892
Weltha M Bradbury and Theodore D. Willsey
Oct 4th 1893
Geo. A. Bradbury and Anna P. Dixon
Oct 20th 1897
Weatha B. Willsey and Wesley L. Day
July 31st 1913
[Page Two -- Births]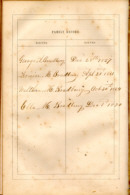 George A. Bradbury Dec 28th 1857
Louise M. Bradbury Apl 21t 1861
Weltha M. Bradbury Oct 20th 1864
Ella M. Bradbury Dec 1t 1870
[Page Three -- Deaths]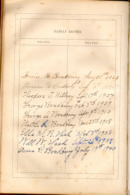 Louise M. Bradbury Aug 18th 1863
Frances W Bradbury Sep 1t 1895
Theodore D. Willsey Sept. 17th 1907
George Bradbury Feb. 3rd 1909
George A. Bradbury Apr. 9th 1910
Weltha L. Bradbury Jan. 23rd 1918
Ella M. B. Nash Mch. 3rd 1938
Will W. Nash Sept. 26th 1939
Anna P. Bradbury July 19th 1940