Brodhead Bible
The Holy Bible Containing the Old and New Testaments,
Oxford, Printed at the Clarendon Press, by Bensley,
Cooke and Collingwood, 1812 (per NT Title page).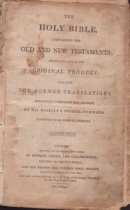 This Bible is in poor shape. The back cover is missing,
as well as anything after the last page of Revelation.
The front cover was crudely taped on, and some signatures
are loose.
The handwriting here leaves a lot to be desired. I studied
it for about an hour before deciding the last name was
Brodhead. My other guesses weren't even names, or at least
common ones. If anyone has a better guess, let me know.
There is a blank "counter check" from the Farmers State
Bank of Callaway, Nebraska, printed 192__, included.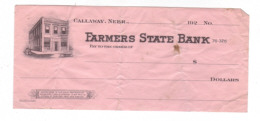 The genealogy is on the reverse of the main title page.
Transcribed by and in possession of Tracy St. Claire,
tracy@stclaire.org.
SURNAMES:
BRODHEAD
---------------START TRANSCRIPT-------------------------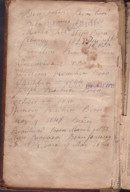 Benjamin Brodhead Born June 20 1820
Maria his Wife Born february 6 1821 Died Sept 10 1854 [?]
Caroline Brodhead Born December 2 1842
William Brodhead Born December 18 1844 Died March 15 1879
Joseph Brodhead Born October 25 1846
Henerey [?] Brodhead Born May 7 1849
Betsey Brodhead Born March 9 1852
Ann Brodhead Born January 23 1854 Died 17 May 1854
------------END TRANSCRIPT-------------------------------