Brown Bible
The Holy Bible Containing the Old and New Testaments,
Edinburgh, Mark and Charles Kerr, MDCCXCVII (1797).
"Ostervald" Bible, composed by the Reverend Mr. Ostervald.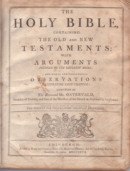 This Bible is in fair condition. The boards are solid but the
front cover is of. The spine is totally split in several places.
The inside page appear clean, undamaged and complete,
with the expected foxing. The laid paper was of good quality,
so the foxing is minimal and the pages are supple. They
don't make them like this anymore.
I cannot place this family anywhere, as there are no clues
to any places inside and no overwhelming evidence on the
Internet. There are enough last names to confirm a link,
though.
Transcribed by and in the possession of Tracy St. Claire,
.
SURNAMES:
BROWN
WILLIAMS
SMITH
MCVICAR
PARK
MOFFETT
JENKINS
-----------------TRANSCRIPT STARTS-----------------
[Page One -- Reverse of NT Title Page]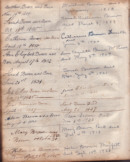 | | |
| --- | --- |
| Matthew Brown was Born Nov. 19th 1804 | Matthew Brown died January 1858 |
| Sarah Brown was Born Oct 19th 1805 | Sarah Williams Brown died March 8, 1883 |
| Catharine Brown was Born April 18th 1830 | Catharine Brown Smith died June 8th 1920 |
| Ann Elizabeth Brown was Born August 17th 1832 | Ann Elizabeth Brown McVicar died May 8th 1909 |
| Sarah Brown was Born June 21st 1834 | Sarah Brown died Mon. July 4th 1921 |
| Jas Elias Brown was Born Sept. 23 1836 | James Elias Brown Died December 26 1866 |
| Jinet Brown was Born April 16 1839 | Jinet Brown Died May 26 - 1839 |
| Adam Brown was Born August 3 1840 | Adam Brown Died Nov. 3rd 1923 |
| Mary Brown was Born October 30 1842 | Mary Brown Park died Feb. 4th 1918 |
| Hellen M. Brown was Born Septr 24th 1845 | Helen Brown Moffett died Sept. 19th 1920 |
[Page Two -- Rear Flyleaf]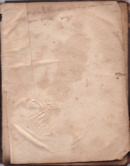 Mahlon Shobridge Jenkins was Born December 31st 1837
---------------END TRANSCRIPT----------------