Bunker Bible
This Bible record was published in the New England Historical
and Genealogical Register, Vol. LXXV, January, 1921, p 80.
SURNAMES:
BUNKER
FERNALD
Below this line, verbatim from source except minor formatting
changes. The misspellings are original.
---------------------------------------------------------------------------------------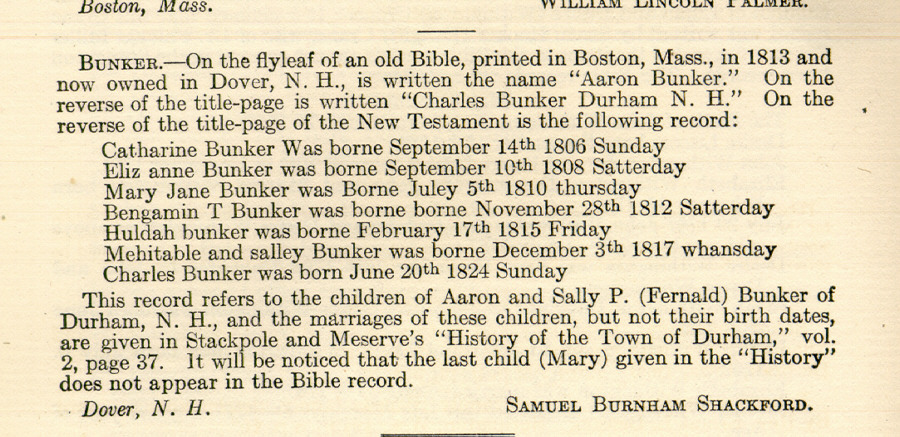 BUNKER. -- On the flyleaf of an old Bible, printed in Boston, Mass.,
in 1813 and now owned in Dover, N.H., is written the name "Aaron
Bunker." On the reverse of the title-page is written "Charles Bunker
Durham N.H." On the reverse of the title-page of the New Testament
is the following record:
Catharine Bunker Was borne September 14th 1806 Sunday
Eliz anne Bunker was borne September 10th 1808 Satterday
Mary Jane Bunker was Borne Juley 5th 1810 thursday
Bengamin T Bunker was borne November 28th 1812 Satterday
Huldah bunker was borne February 17th 1815 Friday
Mehitable and salley Bunker was borne December 3th 1817 whansday
Charles Bunker was born June 20th 1824 Sunday
This record refers to the children of Aaron and Sally P. (Fernald) Bunker
of Durham, N.H., and the marriages of these children, but not their
birth dates, are given in Stackpole and Meserve's "History of the Town
of Durham," vol. 2, page 37. It will be noticed that the last child (Mary)
given in the "History" does not appear in the Bible record.
Dover, N.H. Samuel Burnham Shackford.
-------------------------------------------------------------------------------------------