Burgert Bible
This Bible was submitted by Jan Jordan Lokensgard.

Ella Mabel Burgett/Burgert was my great-grandmother. The Bible is in the possession of a family member of Ella's late granddaughter, Judy Brookshire Hughes of Kansas City, Missouri.

The Burgert name was spelled Burgett and Burgert by all the different family members in a number of generations. We find it switching back and forth on this particular line on other documents. In the end, this family used the name Burgert and lived, died and are buried in Burnett Co. Wisconsin. Adam and Charlotte were pioneers from Ohio, Indiana and then Wisconsin.
SURNAMES:
BURGERT
BURGETT
HALL
GUNTER
CONWAY
--------------------------------TRANSCRIPT----------------------------
[Page One -- Miscellaneous]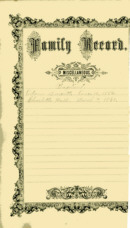 Baptized
Adam Burgett, Aug 10, 1856
Charlotte Hall, March 4, 1860

[Page Two -- Marriages]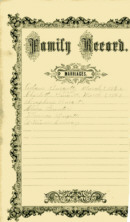 Marriages
Adam Burgett, March 1, 1863
Charlotte (Hall) Burgett, March 1, 1863
Seraphine Burgett
Clara Gunter
Florence Burgett
William Conway

[Page Three -- Deaths]




Deaths
Henry M. Burgett, Oct 5, 1869

[Page Four -- Births]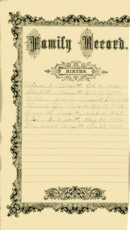 Births
Adam S. Burgett, Oct 14, 1835
Charlotte Burgett, Oct 18, 1844
William Seraphine Burgett, Dec 21, 1863
Florence Effie Burgett, Oct 18, 1866
Henry M. Burgett, Sep 18, 1869
Adam D. Burgett, May 18, 1872
Ella Mabel Burgett, Dec 29, 1877
[Tombstones]

The next 2 photos that I am sending are of of their tombstone at the Orange Cemetery, Burnett Co, WI.