Chambers Bible

The New Testament of Our Lord and Saviour Jesus Christ,
Philadelphia, W.W. Woodward, 1816. Psalms 1815.
Hills #308.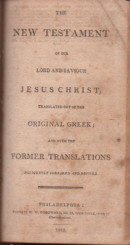 This Bible was rebound in 1999 and is in excellent condition.
It is missing the main and OT title pages and was paginated
in a strange way during rebinding (Psalms at the beginning and
end of the volume, for example).
There is just one page, which is damaged and disbound,
containing family information. The other Memorandums
pages are blank, and some of them I think are missing.
Rootsweb databases place this family in Pennsylvania.
Transcribed by and in possession of Tracy St. Claire, tracy@stclaire.org.
SURNAMES:
CHAMBERS
CAROTHERS
----------------------------------------------------
MEMORANDUMS
James Chambers & Julian Carothers were married March 10th 1836
William Chambers Born June 13th 1837
Nancy Elizabeth Chambers Born October 15th 1839 ["9" in 1839 is indistinct]
------------------------------------------------------------------