Christeson Bible
The Holy Bible Containing the Old and New Testaments,
Oxford, Printed at the University Press, London, M.DCCC.LXX.
1870. 24mo.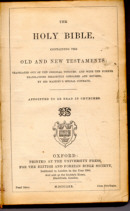 The Bible is very small, having been presented to Charles
Christeson as a reward for Sunday School tickets.
This Bible was acquired by Ann Shirkey and passed on to Tracy
St. Claire. It is currently in Tracy St. Claire's possession and will
be passed on to a descendent.
Transcribed by and in the possession of Tracy St. Claire,
tracy@stclaire.org.
SURNAMES:
CHRISTESON
-----------------TRANSCRIPT STARTS-----------------
[Page One -- Inside Front Cover]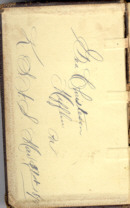 Geo. Christeson
Mifflen Pa.
K.S.N. S. Mar. 31st 1879
[Page Two -- Opposite Page One]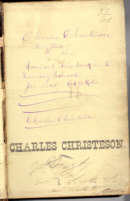 Charles Christeson
Mifflen Pa.
Received his book in ??
Sunday School
for sixty Red tickets
Charles Christeson
Charles Christeson
J. D. Hegdy [??]
? L. S. L.
?? ??
[Page Three]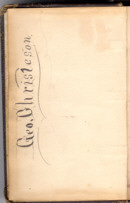 Geo. Christeson
---------------END TRANSCRIPT----------------