Clement Bible

The Holy Bible Containing the Old and New Testaments,
Philadelphia, William W. Harding, 1873.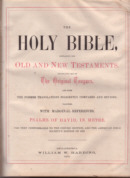 This Bible is in fair condition. The pages within are in
good condition and apparently complete. The binding and
spine are worn and the cover detached.
There is some ephemera included, including a slip of paper
that says "Died on the 24 of June infant Boy of John T.
Clement 1883".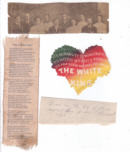 Transcribed by and in the possession of Tracy St. Claire,
.
SURNAMES:
CLEMENT
LIDDLE
-----------------TRANSCRIPT STARTS-----------------
[Page One -- Marriages]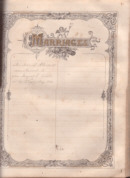 Mr. John T. Clement was Married to Margaret E. Liddle
on the 27th day of May 1869.
[Page Two -- Births]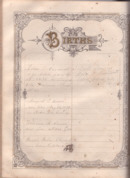 John T. Clement was born July the 29th 1836 in New York
City Sulevin Streat No 25
Margaret E. Liddle was born May 29th 1838, in Andes,
Del, Co, N.Y.
William H. Clement was born October 7th 1871.
Bessie Bella Clement was born October, 6th, 1873 [1873
heavily corrected and hard to read].
Infant Son of John T. Clement born June 24 18, 1883
[Page Three -- Deaths]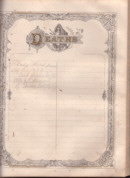 baby died June 24 1883
Died September 17 1913 J.T. Clement of Andes, Del,
Co, Ny
---------------END TRANSCRIPT----------------