Clement Bible

The Holy Bible Containing the Old and New Testaments,
New York, Daniel Smith, 1827.
This book is in fair-good condition. The boards and spine are
all present but the boards are nearly pulled away, hanging on
by one cord each. The spine is almost complete. There is slight
evidence of being in a fire with a small scortch mark on the front
cover and spine. The contents are complete including flyleaves.
There is considerable ephemera in this Bible including a letter from
the secretary of Governor Percival Clement of Vermont (1926), a
clipping of the Early History of Greene County (Illinois), a portion
of a child's newspaper "Apples of Gold", written scraps, and a
newspaper clipping from 1941 of the Illinois College alumni including
C.C. Clement of Chicago.


This Bible was sent by Ann Shirkey and will be sent to a descendant.
Transcribed by and in current possession of Tracy St. Claire,
tracy@stclaire.net.
SURNAMES:
CLEMENT
LAPAUGH
COLE
MORSE

---------------START TRANSCRIPT-------------------------
[Page One -- Marriages]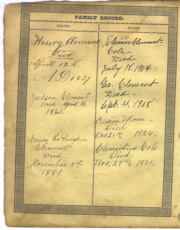 Agnes Eleanor Cole was married to Albert Stephen Morse
October 24th 1877
[Page Two -- Births and Deaths]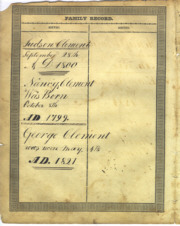 Judson Clement
September 28th A.D. 1800
Nancy Clement Was Born
October 8th A.D. 1799
George Clement was Born
May 4th A.D. 1821
[Page Three -- Births]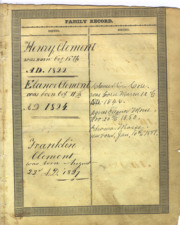 Henry Clement was Born
October 16th A. D. 1822
Elanor Clement was born
October 11th A.D. 1824
Franklin Clement was born
August 22d A.D. 1827
Clementine Cole was born
March 12th A.D. 1846
Agnes Eleanor Morse
Nov 20th 1850
Edwina Morse was born
Jan. 10th 1879
[Page Four -- Deaths]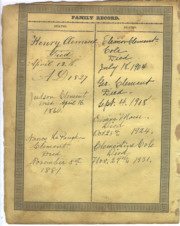 Henry Clement Died
April 12th A.D. 1827
Judson Clement Died
April 16 1860
Nancy LaPaugh Clement Died
November 8th 1881
Eleanor Clement Cole Died
July 18 1904
George Clement Died
September 4 1908
Edwina Morse Died
October 28th 1924
Clementine Cole Died
November 27th 1931

------------END TRANSCRIPT-------------------------------