Crosby Bible

The English Version of the Polyglott Bible Containing the Old and New
Testaments, Brattleboro, Fessenden & Co., 1836. Hills #936. Fairly
common.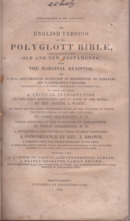 This Bible is in good condition, with the Bible sufferering a split down the
spine right at the genealogy section and the front cover detached. All
pages are present including marbled endpapers. Moderate foxing.
The only ephemera in the Bible is a printed poem "Sacred to the Memory
of Samuel Liscom, Who was born on the 19th day of February, A.D. 1816.
And Died, November 1st. 1835. Aged 19 years, 8 Months and 11 days."
It begins:
"Farewell--my brother fare thee well
For ever. Oh! what words can tell
How deep the tide of woe that flows
When we are doomed to part from those
With whom our youthful hours were past?
Dear happy hours too sweet to last."
This was dated "Worcester, Mass, 1837."
It may well have been written by Sophronia Lisbon Crosby as a tribute to her
brother. It is quite well done and I have not seen a copy of these words
elsewhere. It has an amateurish engraving of a grave site and weeping willow
above the poem, and I wonder if she composed that as well.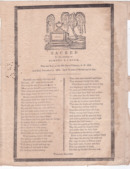 Transcribed by and in possession of Tracy St. Claire, tracy@stclaire.org .
SURNAMES:
CROSBY
LISCOM
EAGER
SAWYER
MCLAUGHLIN
RAYMOND
---------------START TRANSCRIPT-------------------------
[Page One -- Marriages]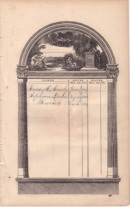 Enos C. Crosby June 1th 1807
Sophronia Liscon Aug 24th 1810
Married Mar 31th 1834
[Page Two -- Family Record]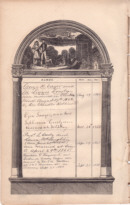 George H. Eager and M. Lizzie Crosby were married in
Clinton Mass. August 19th 1862. Aug 19 1862
by Rev. Chandler Robbins D.D.
Ezra Sawyer and Mrs. Sophronia Crosby were married at Fitchburg
Nov. 30th 1853
Fredk. L. Crosby and Laura McLaughlin (Born June 25th 1845)
were married at Cin. O. April 29th 1865. Apr 19 1865
Franklin F. Raymond and Gertrude Crosby Eager were married by
Rev. E. A. Horton at 523 Beacon St. on Tuesday Sept 25 1888
Sept 25 1888
[Page Three -- Family Record, Names & Births]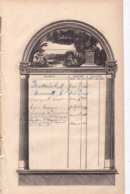 Frederick L. Jan 7th 1835
Maverette E. Feb 19th 1840
George H. Eager Nov. 3rd 1833
Ezra Sawyer July 22d 1794
Gertrude C. daughter of Geo. H. & Lizzie E. Raymond in Boston
Nov, 24th 1864
Franklin F. Raymond son of F. F. and Sarah E. Raymond born
in Lexington May 2 1856
[Page Four -- Family Record, Names & Deaths]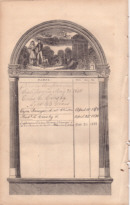 Died in San Francisco California May 21. 1850
Enos C. Crosby Aged 43 Years
Ezra Sawyer, d. at Clinton April 15 1872
Fredk. L. Crosby d. April 25 1875
Sophronia Liscom (Crosby) Sawyer d. 523 Beacon St. Boston
Saturday 11 AM Oct. 21 1888