Crosby Bible
The Holy Bible Containing the Old and New Testaments,
Philadelphia, Mathew Carey, April 23, 1806.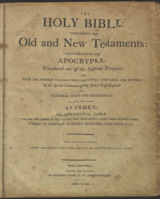 This Bible in good condition. The front cover is detached.
The spine is chipped about a half inch on the top and bottom.
All pages appear present but have foxing, with the page block
solid. A couple accordian bends on the first couple pages but
altogether a nice early American copy.
There is early ephemera tucked in with the pages, adding to
the genealogical interest of this piece. Written on the first
flyleaf is $4-50, the price. On the last page is her notation
of this.
All entries except the last are in the same handwriting,
presumably Abigail Crosby's.
Transcribed by and in the possession of Tracy St. Claire,
tracy@stclaire.org.
SURNAMES:
CROSBY
PADDOCK
DEWING
-----------------TRANSCRIPT STARTS-----------------
[Page One -- Front Flyleaf]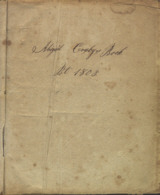 Abigail Crosby's Book
Bt 1808
[Page Two -- Family Record Births]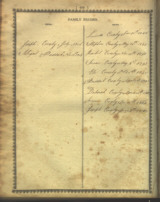 Joseph Crosby, July., 1756
Abigail Paddock, Nov. 16th, 1763
Lucinda Crosby Jan. 21st 1785
Stephen Crosby May 14th 1788
Rachel Crosby Nov 13th 1790
Susan Crosby May 2nd 1793
Eli Crosby Oct 26th 1795
Paddock Crosby April 7th 1798
Deborah Crosby March 16, 1800
Anson Crosby Dec 15th 1802
Joseph Crosby June 2nd 1805
[Page Three -- Family Record Deaths]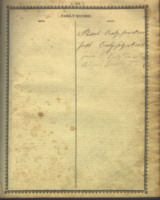 Paddock Crosby, Jan 28, 1805
Joseph Crosby, July 13th, 1805
Joseph P. Crosby Dec. 21st 1809
Abigail Crosby July 1850 [hard to read year]
[Ephemera & Stuff]
1834 Lease between Moses Budlong, Timothy Foster and wife & Eli Crosby. Only
half is present. New York.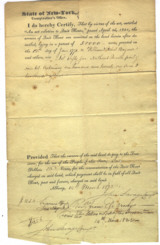 1822 Eli Crosby's "Quit Rent" for 120 acres of land in New York.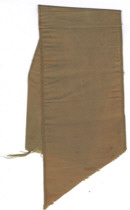 Ribbon, significance unknown.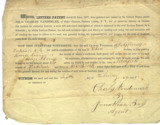 1858 certificate allowing George Dewing to use the patented Charles Vandemark
panels of portable fencing on 80 acres for a peiod of fourteen years. Herkimer
County New York.


1859 Receipt for medical expenses George Dewing.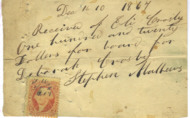 1867 Receipt for $120 for the boeard of Deborah Crosby paid by Eli Crosby.