Dean Bible
The Holy Bible Containing the Old and New Testaments,
New York, American Bible Society, 1854.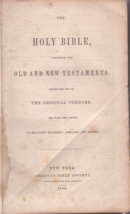 This Bible is has a detached and water-damaged front
cover. It is slightly warped. The rest of the Bible is in
really great condition, except for a small chip out of the
spine.
Transcribed by and in the possession of Tracy St. Claire,
tracy@stclaire.org .
SURNAMES:
DEAN
WHEELEN
CARNEY
-----------------TRANSCRIPT STARTS-----------------
[Front Flyleaf]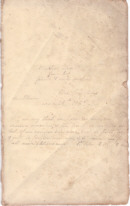 Martha Dean
from her
friend & well wisher
Mrs. J. C. Stiles
New Haven
March 24th 1857.
If we say that we have no sin, we deceive ourselves, & the truth is not
in us; but, if we confess our sins, God is faithful & just to forgive our sins,
& to cleanse us from all unrighteousness 1st John 8 ch 9 v
[Page One -- Marriages]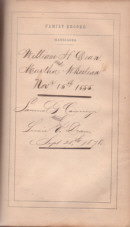 William H. Dean
and
Martha Wheelean
Novr 15th 1855
Samuel G. Carney
and
Susie V. Dean
Sept 28th, 1878.
[Page Two -- Births]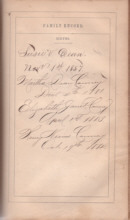 Susie V. Dean
Novr 1st 1857.
Martha Dean Carney
Dec. 14th 1881.
Elizabeth Janet Carney
April 1st 1883.
Henry Nevins Carney
Oct. 19th 1884.
[Page Three -- Deaths]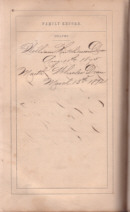 William Hutchinson Dean
Aug. 10th 1875
Marth Wheeler Dean
March 13th 1892
---------------END TRANSCRIPT----------------