Deeter Bible
These pages were removed from the Bible, and therefore
I cannot date the Bible with certainty. They look to be
late 19th century, and "One Thousand Eight Hundred and"
is printed on the certificate. The pages are in good condition, and
came with a photograph of Delilah Deeter.
Transcribed by and in the possession of Tracy St. Claire,
tracy@stclaire.org.
SURNAMES:
DEETER
MCMILLEN
LEONHEART
ROYER
-----------------TRANSCRIPT STARTS-----------------
[Page One -- Marriage Certificate]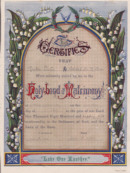 This Certifies that Reuben Deeter & Delilah McMillen
Were solemnly united by me in the
Holy Bond of Matrimony
at Littles Corners on the fourth
day of October in the year of our Lord
One Thousand Eight Hundred and eighty two
conformably to the Ordinance of God and the
Laws of the State.
In Presence of
relatives
Signed
Rev. Fidler
[Page Two -- Marriages]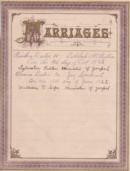 Reuben Deeter to Delilah McMillen
On the 4th day of Oct. 1882
Sylvester Fidler Minister of Gospel
Florence Deeter to Jay Leonheart
On the 17th day of June 1922
William P. Sipe Minister of Gospel
[Page Three -- Births]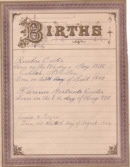 Reuben Deeter Born on the 18th day of May 1838.
Delilah McMillen Born on the 22d day of Sept. 1847.
Florence Gertrude Deeter Born on the 9th day of Aug 1883
James H. Royer Born on the 10th day of August 1864.
[Page Four -- Deaths]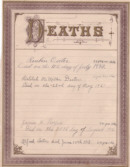 Reuben Deeter Died on the 10th day of July 1893.
55 yrs 2 mo 22 da
Delilah McMillen Deeter Died on the 23rd day of May 1921
73 yrs 8 mo 1 da
James H. Royer Died on the 25th day of August 1906.
42 yrs 15 da
Alfred Deeter died June 10th 1913 64 yrs 1 da
[Page Five -- Memoranda]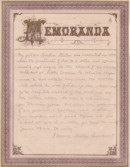 My father Reuben Deeter was converted in 1880
under the pastorate of Rev. M.V. Stone and was ever
devoted and loyal to the church of his choice
Methodist at Little Corners Pa. When the Reaper
came, he had only to lay down the cradle
with which he was gathering the wheat and
go to reap the reward of the faithful on
the other shore. He was a Christian
for thirteen years. God bless the memory
of my precious father and mother.
My mother said just before she died
"I had so much rather go and be with
Jesus than to stay."
Florence Deeter Leonheart
---------------END TRANSCRIPT----------------