Dewalt Family Records

This family record is a good example of Fraktur script done by professional scriveners for Bible's in the mid-19th century, mostly in Pennsylvania and other areas with heavy German populations. This was signed by A. Schwan. It may have been a practice piece for an inscription in a book -- it is the first piece I have seen on loose paper, especially lined loose paper.
The LDS site has this marriage occuring in Crawford, Scioto County, Ohio.
Transcribed by and in possession of Tracy St. Claire, tracy@stclaire.org .
SURNAMES:
DEWALT
MILLER
-------------------------------------------------
[Page One]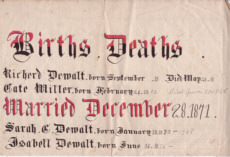 Births Deaths
Richerd Dewalt. born September .18 Died May 28. 18
Cate Miller. born February 24. 1852 Died June 30-1925
Married December 28. 1871.
Sarah. C. Dewalt. born January 19. 1873 - 1908
Isabell Dewalt . born June 16. 1876 -
[Page Two]
[Has illustration of a hand with a flower]
Remember me
A. Schwan
[Page Three]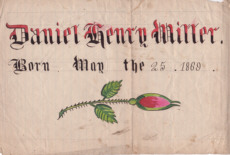 [Has an illustration of a flower]
Daniel Henry Miller
Born May the 25. 1869.