Eacott Bible
The Illustrated Family Bible, Glasgow, Andrew Donald, 1851.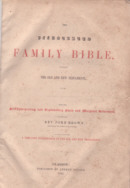 The Bible itself is in fair condition, with both boards detached and
spine missing. The pages are in good condition, retaining some
gilding. It could be nicely rebound, because the boards and pages
are in such good shape
This Bible was purchased in England.
Transcribed by and in the possession of Tracy St. Claire,
tracy@stclaire.org.
SURNAMES:
EACOTT
-----------------TRANSCRIPT STARTS-----------------
[Page One -- First Flyleaf]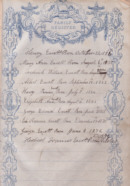 Henry Eacott Born October 23, 1832 [1836 scratched out]
Mary Ann Eacott Born August 6th, 1838
Frederick William Eacott Born August 30, 1860
Albert Eacott Born September 19th 1862
Harry Peruda Eacott, Born July 5th 1864
Elizabeth Ann Eacott Born August 6th 1866
George Edward Eacott Born June 7th, 1868
["Eli" crossed out] Rosenia Eacott Born December 19th 1870
George Eacott Born June 8 1872
Herbert Frances Eacott Born October 27. 1876
---------------END TRANSCRIPT----------------