Eastwood Bible
The Holy Bible with the Commentaries of Scott and Henry,
distributed by John Harrop, Manchester, published by the
National Publishing Company, London. Undated, resembles
the type published in the late 19th century.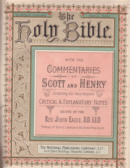 This Bible is in pretty good shape. The covers are detached,
but they and the rest of the binding, including engraved brass
latches, are in good shape. The pages, with gilded edges,
are all intact and in great shape.
These locations appear to be in West Yorkshire, England.
Transcribed by and in the possession of Tracy St. Claire,
tracy@stclaire.org.
SURNAMES:
EASTWOOD
WALKER
-----------------TRANSCRIPT STARTS-----------------
[Page One -- Marriages]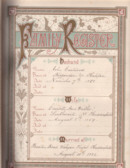 Husband
John Eastwood
Ripponden. Nr. Halifax
November 7th 1858.
Wife
Charlotte Ann Walker
Linthwaite Nr. Huddersfield
August 8th 1859.
Married at
Buxton Road Wesleyan Chapel Huddersfield
August 10th 1882.
[Page Two -- Children]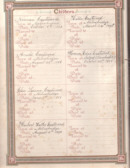 Norman Eastwood
Born at Milnsbridge
Date October 8th 1883
Arnold Eastwood
Born at Milnsbridge
Date August 20th 1886
Elsie Leonora Eastwood
Born at Milnsbridge
Date June 1st 1888
Hubert Walker Eastwood
Born at Milnsbridge
Date August 11th 1890
Hilda Eastwood
Born at Milnsbridge
Date March 24th 1893
Florence Edna Eastwood
Born at Salford (Manchester)
Date October 23rd 1898
---------------END TRANSCRIPT----------------