Eaton Bible
These pages were removed from the Bible, so I do not
have a confirmed publication date for the Bible. These
pages look similar to those in mid-19th century Bibles.
Nothing else was included with these pages. Some entries
were made in an elaborate fraktur style common in PA
during that time.
Transcribed by and in possession of Tracy St. Claire,
tracy@stclaire.org.
SURNAMES:
EATON
ELLS
ASH
SMILES
WILLIAMS
SKINNER
MACDOUGALL
HADSALL
---------------START TRANSCRIPT-------------------------
[Page One -- Marriages]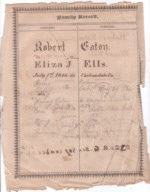 Robert Eaton To Eliza J. Ells July 1st 1846 in Carbondale Pa.
Robert Eaton to Amy Ash May 24 1861
Henry Eaton to Maggie Smiles Oct 3 1883
Cora Eaton to Walter Smiles June 1888
Mary " to Wm Williams Jun 18 1905
Rubena " to Harry Skinner Jan 12 1916
[Page Two -- Births]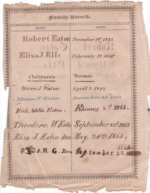 Robert Eaton December 18th 1827
Eliza Ells February 12 1831
Children's Names
Sires J. Eaton April 9 1847
Hiram T Eaton December 24 1848.
Ruth Adelia Eaton February 3rd 1851
Theodore W. Eaton September 23rd 1853
Eliza J. Eaton Born May 24th 1855
Oscar G. Born September 28 1858
[Page Three -- Births]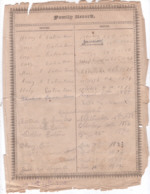 Henry C. Eaton Born Febuary [sic] 27th 1862
Gorge J [?] Eaton Born Janurary [sic] 15th 1864 [overwriting December]
Cory M Eaton Born May 30th 1866
Cory Eaton Born September 21st 1869
Mary J. Eaton Born December 27th 1871
Amey B. Eaton Born March the 2 1874
Haty Eaton Born October the 30 1875
Rhubena Eaton Born August 30th 1879
Granddaughter
Birtha E. Smiles September 16th 1888
Ruthie S. Eaton October 10th 1886
Robbie Eaton May 25 1890
Amy Eaton Dec 7th 1833
Robert E. Williams April 9 1906
Mary E. Williams March 29 1913
Jack MacDougall Feb 16th 1912
[Page Four -- Deaths]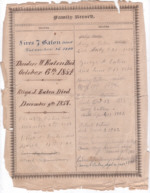 Sires J. Eaton Died November 26 1848
Theodore W. Eaton Died October 6th 1854
Eliza J. Eaton Died December 9th 1857
Oscar G. Eaton died November 6th 1863
Wife Eliza J. Eaton died March 19th 1861
Amey Eaton Died March the 2 1874 [crossed out]
Amy B. Eaton Died July the 21 1874
George A. Eaton died June the 13 1876
Henry Eaton died May 19th 1892
Elereta Eaton died Oct 23 1881
Amy Eaton died April 11 1901
Robert Eaton died March 2 1903
Wm. A. Williams Born Feb 10 1866 Died July 22 1927
Cora May Hadsall died March 31st 1926
Rubena Eaton Skinner died Dec 8 1934
Carrie S. Eaton Sept 29 1943
------------END TRANSCRIPT-------------------------------