Edwards Bible
This bible was up for auction on eBay in February 2003. The seller gave permission for the following photographs and transcriptions to be submitted to this site.
Transcriptions by Tara Hawkins
Description:
Holy Bible by Rev. John Eadie D.D., L.L.D, measures 13" x 11" x 3 1/2". Black leather cover with gold writing. The brass hinges are in good working order, there are a few pages that look mottled. The leather is scuffed in places and the pages a bit brown, but this is due to age and wear.

SURNAMES:
EDWARDS
---------------------------------------------------------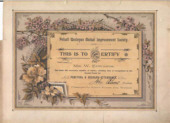 Certificate
Pelsall Wesleyan Mutual Improvement Society
This Is to certify
That Mr. W. Edwards
Has made the necessary number of marks, entitling him to recognition in the
Second Grade for
Punctual & Regular Attendance
May 18th (?) John …… President
Presented by Enoch Evans Esq. Walsall.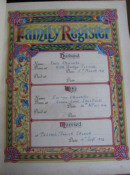 Family Register
Husband
Name Fred Edwards
Born at High Bridge Pelsall
Date 5th March 1912
Died at _________
Date ____________
Wife
Name Evelyn Edwards
Born at Green Lane Shelfield
Date 24th April 1914
Died at ______
Date _________
Married
At Pelsall Parish Church
Date 19th Sept 1936
[END]