Eleberger Bible Pages
These pages were separated from the Bible, so the
date of the Bible is unknown.
There were two [?] birth entries that were purged from
the record by physically cutting them out. Bet there is a
story there! They were children born between Susan
(in 1870) and Minnie (in 1876).
The spelling shifted between Eleberger (in the original
marriage certificate) to Elebarger back to Eleberger.
Shrug. Those are not typos below.
Transcribed by and in the possession of Tracy St. Claire,
tracy@stclaire.org.
SURNAMES:
ELEBERGER
ELEBARGER
HACKMAN
-----------------TRANSCRIPT STARTS-----------------
[Page One -- Marriages]
Benjamin Eleberger and Barbara Hackman joined Matrimony
the thirtyeth of November One Thousand Eight Hundred and fifty
four. In the city of Lancaster Pa. By the Rev. J.J. Strine
[Page Two -- Births]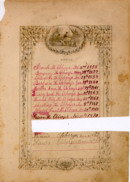 Isaiah H Elebarger Feb. 2nd 1856
Benjamin H. Elebarger May 22nd 1857
Elizabeth H Elebarger Nov 29th 1858
Barbaria H Elebarger Jan 19th 1860
Martha Ann H Elebarger Sept 29th 1861
Henry Jacob H Elebarger June 12th 1863
Francis Wesley H Eleberger Aug 22nd 1865
John Heisy H. Elebarger Aug 4th 1867
Ulyses Grant H. Elebarger Nov 20th 1868
Susan H Elebarger Nov 10th 1870
[cut out]
[cut out]
Minnie Eleberger Born 31st Dec 1876
Laura Eleberger Born 14th Oct 1878
[Page Three -- Parents' Register]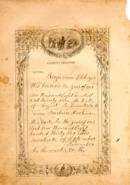 Father
Benjamin Eleberger Was Born in the Year of our Lord
One Thousand Eight Hundred and twenty nine The
tenth of August in Lancaster Co. Pa.
Mother Barbara Hackman
Was Born In the Year of our Lord
One Thousand Eight hundred thirty six.
The nineteenth of September November
In Lancaster Co. Pa.
[Page Four -- Deaths]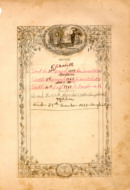 Elizabeth
Died the 31st of March 1859 in Lancaster Co
Barbara
Died the 3rd of March 1862 in Cumberland Co
John Heisy
Died the 10th of Sept 1868 In Dauphin Co. Pa.
Father
Died the 22nd of March 1893 In Dauphin Pa.
Mother
Died 29th December 1921 Dauphin Co.