Fake Family Record
This is an early marriage certificate with family record entries
on it. Not a Bible record exactly, but close enough for me.
It measures about 6" x 5", and the separation where it had
been folded too often was repaired with scotch tape on the
back. Yikes!!!
According to some undocumented records on the Internet, the
Minden listed here is Minden NY.
Transcribed by and in possession of Tracy St. Claire, tracy@stclaire.org.
SURNAMES:
FAKE
ZOLLINGER
ZULLER
--------------------------------------------------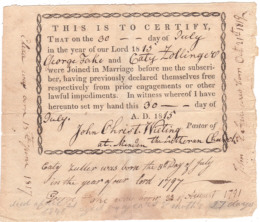 This is to Certify, That on the 30 -- day of July in the year
of our Lord 1815 George Fake and Caty Zollinger were
Joined in Marriage before me the subscriber, having previously
declared themselves free respectively from prior engagements
or other lawful impediments. In witness whereof I have
hereunto set my hand this 30 -- day of July A. D. 1815
John Christ Wieting
Pastor of the Lutheran Church
at Minden
Caty Zuller was born the 5th day of July in the year of our Lord
1797
George Fake was born 23 August 1791
died April 21 1846 aged 54 years 8 moths [sic] 27 days
Eliza was born 15th June 1817
John H. Fake was born Oct. 21st 1819
------------------------------------------------------