Farnham Bible
The Holy Bible Containing the Old and New Testaments
New York, American Bible Society, 1851.

This Bible is in fair condition. The covers are still attached,
but there is damage to the spine. Some pages have torn loose.
Interestingly, although there is a family records section, the
family information in this Bible is listed on a back flyleaf.
Transcribed by and in the possession of Tracy St. Claire,
tracy@stclaire.org.
SURNAMES:
FARNHAM
BUSH
-----------------TRANSCRIPT STARTS-----------------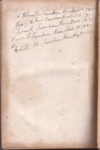 Allen U. Farnham Born Sept 9 1854
Mary M. Bush Farnham Born Nov 26 1853
Frank Farnham Born Dec 6 1876
Bessie F. Farnham Born Feb 19 1884
Edith M Farnham Born May 30 1893
---------------END TRANSCRIPT----------------