Felcker Family Records

This is a single sheet of paper written on one side.
The dates range from 1783-1827, and the writing looks
fairly contemporary with those dates. The last entry,
concerning George Felcker's death (1827), looks to be in a
different handwriting, while Catharine's marriage date,
in 1826, is not squeezed in.
It might have been removed from a Bible, or the entries
copied from one, as the entries have wording like "was born
this day".
Transcribed by and in the possession of Tracy St. Claire,
tracy@stclaire.org.
SURNAMES:
FELCKER
SIPLE
-----------------TRANSCRIPT STARTS-----------------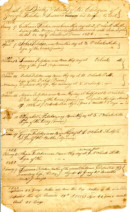 List of Births & Deaths of the Children of George Felcker and
Susanna Vxxxxxy [last name crossed out] his wife; to wit}
1808 January 17 Catharine Felcker was born this day at 2
O'clock A.M. sign of the Virgin (virgo). Intermarried with
John Siple on the 26 day of November A Domini 1826.
1810 April 9 John Felcker was Born this day at 3 O'clock A.M.
sign of the twins (Gemini).
1812 October 13 Susanna Felcker was Born this day at
[blank] O'clock, [blank] M. sign of the Goat (capricornus)
1814 October 25 Frederick Felcker was Born this day at 11
O'clock P.M, sign of the Fishes (Pisces)
November 9 Departed this life, this morning at 8 o'clock,
aged [blank]
1815 October 21 Maria Felcker was Born this day at half past 3
O'clock P.M. Sign of the twins (Gemini) -- Departed this life
March 29 1823, at 7 O'Clock P.M. Aged 7 years 5 months &
8 days
1818 April 10 Elizabeth Felcker was Born this day at 5 O'clock
A.M. Sign of the twins (Gemini)
1821 June 19 George Felcker was Born this day at 4 O'clock
A.M. Sign of the Buller (Aquarius)
1825 February 2 Anna Felcker was Born this day at 20 minutes
past 6 O'Clock A.M. Sign of the [blank]
1825 February 9 Susanna Felcker, (mother of the above children)
Departed this transitory life (this day) Aged 41 Years 10 months
and 7 days
1783 September 28 George Felker Was Born this Day Father of the
above children Departed this Life December 19th AD 1827 Aged
44 years 2 months and 20 Days -
---------------END TRANSCRIPT----------------