Francis Bible
Y Bibl Sanctaidd: Sef, YR HEN DESTAMENT A'R
NEWYDD, Caerfyrddin: Mr. David Humphreys, M,DCCC,VII.
(1807).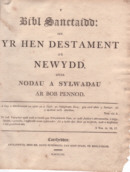 The Bible itself is in great condition, in Welsh. It was rebound
at some point, keeping the original leather atop some new
leather? It badly needs a drink of water, but the inside pages
are in such good condition, I originally doubted the date.
This Bible was purchased in London.
The genealogy information is on the front flyleaves. The numbers off
to the side of some entries were done in pencil at a later date.
Transcribed by and in the possession of Tracy St. Claire,
tracy@stclaire.org.
SURNAMES:
FRANCIS
HOPPER
CHESSON
GILBERT
LAING
READ
-----------------TRANSCRIPT STARTS-----------------
[Page One -- First Flyleaf]
Thomas Francis buried at Mirthyr 19 Novr 1790
Mrs. Catherine Francis born Septr - 1739
Thomas Francis born 9 April 1771
Francis Francis born 9 in March 1773
Samuel Francis born in Octr 1777
Mifs Catherine Ann Francis Daughter of Thomas and Sarah Francis Born in
London December 11th 1814
[Page Two -- Second Flyleaf]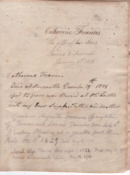 1 Catherine Francis
2 The gift of her Sons
Thomas & Samuel
January 1st, 1811
3 Catherine Francis
Died at Newcastle December 29th 1821
aged 82 years, was Buried at Oldcastle
with my dear Sarah's Father and Mother
3 Caroline Augusta Francis Daughter
of Thomas and Sarah Francis born July 3rd
Wensday Morning at a quarter past three
July the 3rd 1823. Died May 8, 1901
3 Sarah Eliza Francis Born Sept. 5, 1824 [corrected from 1823]
Died May 13. 1901
Buried Hammersmith Cemetary, May 16, 1901
[Page Three -- Third Flyleaf]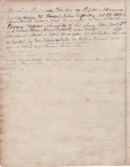 3 Caroline Augusta Francis m. Captain Harman Baillie
Hopper, 31 Bengal Native Infantry. Oct. 27, 1869, at
Christ Church Victoria Road Kensington by Rev. H. Heakley [?]
4 Eleanor Hopper - daughter of the above, born Janry 2nd
at 8 Radnor Place, Mount Radford, near Exeter 1871
Christened March or April same year, at St. Luke's church
W. Exeter, by Rev. Thomas Wills or Willis. Married March 5,
1901 to Wilfrid Hugh Chesson. Died 1906.
5 Ann, died --
Dermot adopted by - Spence - Dagmar
[Page Four -- Fourth Flyleaf]
[At the top of this page is a skull & crossbones.]
Francis Francis died August 24 1824. Aged 49 years
Mrs. Catherine Francis his wife at the 29th of May 1829 aged 64.
Thomas Francis died 30 of Oct 1833 aged 64 years
Samuel Francis died Dec the 17 1829 aged 52 years
3 John Skinner Francis died at Cape town Cape of Good Hope
aged 36 years March 7th 1855
3 Joseph Mathus Gilbert died the 13th of November 1841 aged 33
Julia Lavinia Laing died Nov. 13. 1889.
3 Henry Francis died Sep 25th 1884
[Page Five -- Fifth Flyleaf]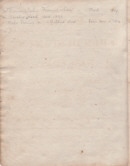 3 Thomas John Francis born - died 1899
m. Tenobia Read died 1896
Kate Francis m - Gilbert died - born Derc [?] 11 1814
---------------END TRANSCRIPT----------------