Gates Bible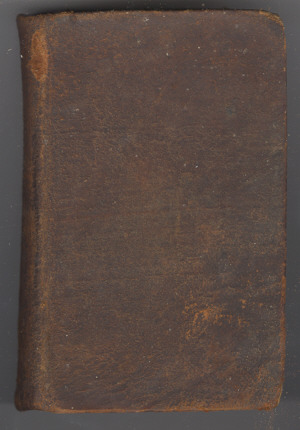 The Holy Bible Containing the Old and New Testament,
Newburyport [Massachusetts], printed by B. W., Wm. B.,
and H. G. Allen, Merrimack, Maine, New Hampshire
and Other Bible Societies. 1813. Hills #234.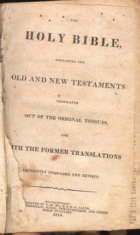 This Bible is in fair condition. Binding is tight and
without structural damage, but the leather is very dry
and flaky. The signatures in the middle are loose and
some pages may be missing as a result. No obviously
missing pages, including front and rear flyleaves.
In the middle is a small scrap of fabric and a Boston
calendar from 1868.

From what I could find on the Internet -- unproven
sources -- this looks to be the family of Reuben
Gates of Gardner, Worcester County, Massachusetts.
Transcribed by and in the possession of Tracy St. Claire,
tracy@stclaire.org.
SURNAMES:
GATES

-----------------TRANSCRIPT STARTS-----------------
[Page One -- Front Flyleaf]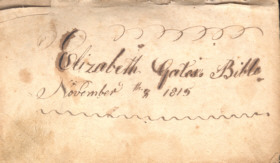 Elizabeth Gates's Bible
November th 8 1815
[Page Two -- Rear Flyleaf]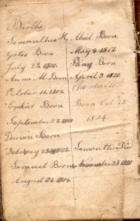 Births
Semanthee K. Gates Born July 23 1806.
Anna M. Born October 16 1807.
Ezekiel Born September 27 1809.
Darwin Born Febuary 23 1812.
Samuel Born August 26 1814.
Abiel Born May 4 1817.
Pliny Born April 9 1820.
Charles W. Born Oct 12 1824.
-------------
Semanthee Died November 23 1820
---------------END TRANSCRIPT----------------