Hedberg Bible
This Bible is in my collection (Tracy St. Claire, tracy@stclaire.org). As much as I can determine, it is not an emigrant Bible; it was acquired from a seller in Sweden.
This Bible was printed by Samuel Rumstedt in Stockholm in 1822. It has the original binding, albeit worn, and the strap only partially remains. The volume is complete, with one loose leaf.

Transcribed and translated by Martin Rundkvist of Stockholm, Sweden. Thanks!!!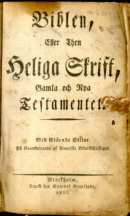 SURNAMES:
HEDBERG
Håkansdotter
JOHANSSON
------------------------------------------------------------------------------------------
[Page One]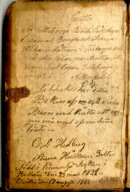 Gratis
Af Göteborgs Bibel Sällskap
tillägnad Bengta och Anna
Håkansdötrar i Tostarp, och
må ike säljas, pantsättas, el-
ler i mät tagas. Salsberga
år 1826. Adtendahl
Så ledes till hör denna
Boken oss och våra
Barn med Rätta att in-
gen må med oss om henne
träta.
O.S. Hedberg
Anna Håkans Dotter
Född i Tönnersjö Socken i
Halland Den 22 mars 182*-
****** den 19 augusti 1866 - O:*:H:C:
Given by The Bible Society of Göteborg, free of charge, to Bengta and Anna Håkansdotter in Tostarp, and may neither be sold, pawned or repossessed. Salsberga 1826. Adtendahl.
Thus this book belongs to us and our children by right that no-one may quarrel with us over it.
O.S. Hedberg
Anna Håkansdotter
Born in Tönnersjö parish in Halland the 22 March 182*
****** the 19 August 1866 - O:*:H:C:
[Page Two]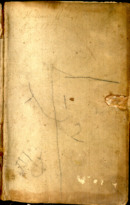 Håkan alfred född 19
Juni 1863
Håkan Alfred born 19 June 1863
[Page Three]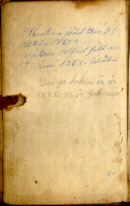 Albertina född Den 8de
Oktober 1860
Håkan Alfred född den
19 Juni 1863 i b**åkra
Denna boken är år
1878: 56 år Gammal
Albertina born the 8 October 1860
Håkan Alfred born the 19 June 1863 in B**åkra
This book is in 1878: 56 years old
[Page Four]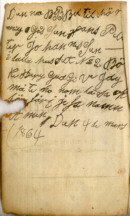 Denna BiBBel til hör
mig Gås Sen Hans Pet
ter Jo han ns Son -
i *alla hus Set No 2. Bö
ke Berg Gud Give Jag
må te ho nom läsa ok
hän såv i jesa namn
Amen
Den 4de mars
1864
This Bible belongs to me, young Hans Petter Johansson, in the **** house #2 Bökeberg. God grant that I read it and that I pass away in the name of Jesus, Amen. The 4 March 1864.