Hoffman Bible
The Holy Bible Containing the Old and New Testaments,
New York, American Bible Society, 1875.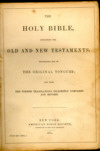 One back page has a statement from Mrs. Hoffman about
non-payment from one of her employers, in order to care
for a baby. This baby's name is also in the Bible, making
me wonder how this baby was related.
The Social Security Death Index has these Martin Crowners
as:
Martin Crowner; Born 14 Aug 1923; Died 16 Nov 1999; Last Residence Fennville, Allegan, MI
Martin Crowner; Born 15 Nov 1883; Died 1 Mar 1974; Last Residence Fennville, Allegan, MI
There is a train receipt from Holland, MI in this Bible.
Transcribed by and in the possession of Tracy St. Claire,
tracy@stclaire.org.
SURNAMES:
HOFFMAN
GODLEY
CROWNER
FEIGE
-----------------TRANSCRIPT STARTS-----------------
[Page One -- Back Flyleaf]

Mr. Mike Godley Passed away August 7th and was burried
August 9th in the year year 1925.
Mrs. Anna Hoffman, Passed away Sepetember 9th 1928 and
was burried sepetember 12th 1928.
[Page Two -- Back Flyleaf]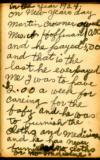 in the year 1924. on New Years day Martin Crowner owed
Mrs. A. Hoffman $10.00 and he payed $5.00 and that is the
last he ever payed me I was to have $2.00 a week for careing
for the baby and he was to furnish the cloths and medisine
and he has never furnished no cloths or no medisine.
[Page Three -- Back Flyleaf]

Mrs. Lizzie Hoffman Feige was born in the year 1894 December
28th
Mrs. Anna Hoffman was born in the year 1859 November 20th
Martin Eugene Crowner was born in the year 1923 August 14th
Lizzie Hoffman Feige Died Jan. 7, 1957
---------------END TRANSCRIPT----------------