Howard Bible Pages

These Bible pages were separated from the Bible. "Copyrighted
1907 All Rights Reserved" is found at the bottom of one page, placing
the printing date.
Transcribed by and in the possession of Tracy St. Claire,
aaf@ais.net.
SURNAMES:
HOWARD
BLACK
-----------------TRANSCRIPT STARTS-----------------
[Page One -- Marriage Certificate]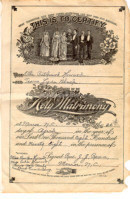 This is to Certify that Ollie Pritchard Howard
and Tesora Lyda Black
Were United By Me
in Holy Matrimony
at Monroe. N.C. on the 26th
day of April in the year of
our Lord One Thousand Eight Hundred
and Ninety Eight in the presence of
Signed Rev. J. J. Renn
Monroe N.C.
Witnesses
Miss Bertha Howard
Miss Eula Howard
Lewis McNeely
Bud Tunderburg
[Page Two -- Family History]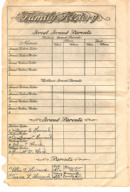 Grand Parents
Father's Father William E Howard
Father's Mother Cantharus C. Howard
Mother's Father John T Black
Mother's Mother Harriett D. Black
Parents
Ollie P. Howard Born Oct 22 1874 Denver N.C.
Tesora L. Howard Born May 24 1877 Greenville County, S.C.
[Page Three -- Family History]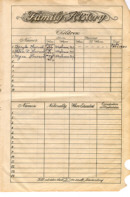 Children
Beryle Howard Born June 27 1899 Waxhaw N.C. Died July 30 1900
Helen D. Howard Born Jan. 16 1901 Waxhaw N.C.
Myra Howard Born March 5 1904 Waxhaw N.C.