Hunter Bible
The English Version of the Polyglott Bible Containing the
Old and New Testaments, Boston, Lincoln, Edmands &
Co., and Pierce & Parker, 1833. Hills #820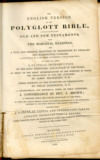 This Bible is in fair shape. The binding is original and intact,
and the pages suffer little to no foxing. However, many
pages are pulled loose from the binding and are out of order.
I suspect many are missing altogether. There are many
pieces of 1880s (and thereabouts) ephemera scattered
throughout the Bible, including tracts, choir papers, and
some household hints.
The newspaper clipping of Mary Jane's death indeed does
contain the numerous typos as transcribed below.
Transcribed by and in the possession of Tracy St. Claire,
tracy@stclaire.org.
SURNAMES:
HUNTER
HENDERSON
CARRON

-----------------TRANSCRIPT STARTS-----------------
[Page One]

Elizabeth Hunter April 29th 1831 Feby 15th 1833
Elizabeth Mable Hunter Jany 24th 1834
Mary Jane Hunter April 21st 1836 March 15/06
[Page Two -- Marriages]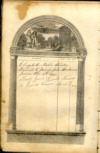 Elizabeth Mable Hunter Married to James John Henderson
June the 11th 1861
Mary Jane Hunter Married to James Carron April 15th 1857
[Page Three -- Deaths]

Michael Hunter Feby 22 1855
Mary Hunter Jany 1 1851
[Page Four -- Clippings]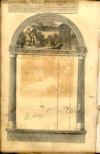 February 1870
At Brockville, on Sunday the 20th inst., FLORENCE HUNTER,
eldest daughter of James Carron, Esq., Town Councillor, aged
eight years and four months.
December 1869
At Brockville on the 14th, inst., of meazles, Michael Hunter, infant
son of James Carron, Esq.,
[Page Five -- Clipping]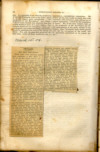 March 15 --06 [handwritten]
OBITUARY
Mrs. Mary Jane Carron
Death came with startling suddenness yesterday to Mrs. Mary J.,
relict of the late James Carron, the sad event being a shock to her
many friends and a crushing blow to the surviving sons, Dr. F. B.
Carron, of Brockville, and J.F.L. Carron of Montreal. Despite
advanced years, Mrs. Carron enjoyed fairly good health, though
she had been complaining for several months. Her indisposition,
however, was not sufficient to confine her to her room and each
day she was about the house in her usual cheerful manner. Yesterday
morning Mrs. Carron arose as usual, giving no indication of the
approaching dissolution. About 10 o'clock while seated comfortably
in a chair and chatting pleasantly to those in the room, she was
unexpectedly stricken with apoplexy and immediately lapsed into
unconsciousness in which condition she passed quietly to her long
rest five hours later. The deceased received prompt medical
attendance but life slowly ebbed away despite all that medical
skill and tender hands could do.
As previously stated the announcement of Mrs. Carron's death
created painful surpries from the fact that she had not been seriously
ill. She was numbered with Brockville's oldest native-born citizens,
her residence extending over a continuous period of nearly 70 years
with the exptetion of one winter spent in Montreal following the death
of her daughter, Miss Minnie Carron. She was the daughter of the late
Michael Hunter, a pioneer settler and strange to relate, Mrs. Carron
died in the house on Perth street where she was born, married, and
lived practically her whole life. The exact date of her birth was April
21, 1836. Her late husband died in 1872 since which time Mrs. Carron
had been a widow. She is the last member of the Hunter family, her
parents, brothers and sisters having long since pre-deceased her.
Mrs. Carron's family consisted of four daughters and three sons, but
only two sons are left to mourn the loss of a devoted mother, who was
the object of their special care and love. Deceased did not aspire to
any social distinctions, preferring the quiet of her cozy home and
studiously performing the duites of the head of the household. Her
honest worth, willing, helpful ways, and unfailing kindness to all won
her a place in the respect and esteem of a host of friends. As a neighbor
she was true and kind and her many acts of charity will live long after
her. Mrs. Carron was a devoted member of the Church of England.
In the early days she was affiliated with St. Peter's; then became a
member of Trinity, liberally contributing to its erection and support, and
latterly a member of St. Paul's. Te mourning sons have the depest
sympathy of all in their bereavement.
[Page Six -- Handwritten Poem]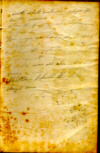 ---------------END TRANSCRIPT----------------