Hurd Bible
The Holy Bible Containing the Old and New Testaments,
New York, D. Fanshaw for the American Bible Society,
1819.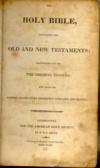 This Bible is in very good condition. Binding is tight, but has
a lot of wear and some loss to the spine. The pages are in
good condition, with foxing. It is a nice example of an early
ABS Bible.
A sheet of entries was pasted over some pencilled entries.
It appears that this sheet just repeats the entries underneath
it. I cannot find mention of this family anywhere, so I do
not know where they resided.
Transcribed by and in the possession of Tracy St. Claire,
tracy@stclaire.org.
SURNAMES:
HURD

-----------------TRANSCRIPT STARTS-----------------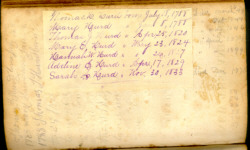 Thomas H. Hurd born July 18, 1788 Died March 1847
Mary Hurd " Jan. 8, 1788 " Oct. 1844
Thomas J. Hurd " Apr. 25, 1820 " May 1846
Mary E. Hurd " May 23, 1824 " April 1874
Hannah W. Hurd " " 26, 1827 " " 1899
Adeline E. Hurd " Apr. 17, 1829
Sarah A. Hurd " Nov. 30, 1833 Died Dec. 1870
59
54
26
50
74
37 [these appear to be someone's calculation of their
ages at death]
---------------END TRANSCRIPT----------------

Readers say:
I found your e-mail address on a rootsweb website.
Though the posting where I found the address is a year old, I wanted to let you know, in case you didn't already, that the Hurd family in the bible you have resided in New Hampshire. I found a record of Thomas J. Hurd born in April 1820 in Dover, Strafford County, New Hampshire. I cannot find records of the other children listed in the partial transcription, but in case you wanted to know where the family lived, I wanted to pass it on to you. I have Hurd's in my ancestry but I don't think they are related to those in your bible.
Bonnie Peters
------------------------------------------------------------