James Bible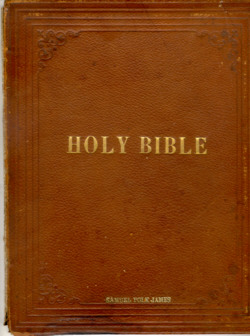 The Holy Bible Containing the Old and New Testaments,
Philadelphia, John B. Perry, 1849. Hills #1421A, except
this is dated 1849 and not 1850.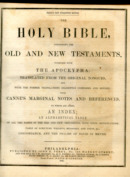 This Bible is in good condition, but needs repairs. The pages
and the gilded edges are nearly mint, but the spine is missing
and the front cover detached. The marbled binding pages
are present and also almost mint.
Samuel Polk James is gilded on the cover.
This is the first Bible I have seen of its edition. It is very
beautiful, with elaborate woodcuts, but much more subtly
presented than the larger Harper's Illuminated (and, of course,
with fewer images).
The first flyleaf states that it was acquired at Richard Dotto
Auction Co., Dec. 13 /1987 by the James Lukanowski
family. I have not transcribed those names because they
contain no dates and appear to be living in 1987.
I have not found much about this family, but the LDS site
puts these people in Bucks County, Pennsylvania.
Transcribed by and in the possession of Tracy St. Claire,
tracy@stclaire.org.
SURNAMES:
JAMES
MANN
ECKHART
TOWNSEND
POLK
-----------------TRANSCRIPT STARTS-----------------
[Page One -- Marriages]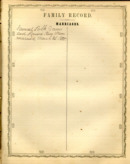 Samuel Polk James and Louisa Ann Mann married March
26, 1838.
[Page Two -- Births]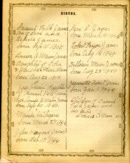 Samuel Polk James son of Levi and Rebecca James born Sep. 11
1808.
Louisa A. Mann James daughter of John & Martha Greir Mann
born Aug 23, 1817.
Josephine daughter of Samuel Polk James and Louise A. Mann
James born Sep. 20, 1840.
Marion Catherine born March 27, 1842.
John Haward James born Feb. 17, 1844.
Levi L. James born March 5, 1846.
Robert Tryon James born Aug 15, 1848.
William Mann James born Aug 23, 1850.
Jeannette Stuart James born Jan 1, 1855.
Children of Samuel Polk James and his wife Louisa A. Mann James.
[Page Three -- Births]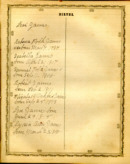 Levi James.
Rebecca Polk James was born May 7, 1787.
Isabella James born April 21 1807.
Samuel Polk James born Sep 11 1808.
Robert James born Feb 2 1811.
Elizabeth Oakford James born Sep 25, 1813.
Levi James born June 29 1815.
Lydia Ann James born March 23, 1818.
[Page Four -- Deaths]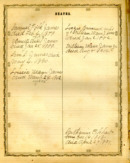 Samuel Polk James died Feb 4 1879
aged 71
Jeannette Syuart James died Jan 25, 1889.
Levi L. James died May 4, 1890.
Louisa Mann James died March 26, 1902.
aged 85.
Lizzie Townsend wife of William Mann James
died Jan 2, 1882.
William Mann James Jr. died Aug 5 1904.
Catharine Eckhart born Dec 14 1808 died
April 27 1891.
---------------END TRANSCRIPT----------------