Jones Bible
This Bible was purchased at auction. Unfortunately,
these JONES/BROWN people are not MY JONES/BROWN
people.

The LDS site places this family in Ohio County,
West Virginia.

The Holy Bible Containing the Old and New Testaments.
New York, American Bible Society, 1877.



This Jones Bible was returned to descendant Phillip James .

SURNAMES:
JONES
BROWN
MCCOY
MCKINLEY
RIGGIN
YATES
SLOAN
JOHNSTON
LACY

TRANSCRIPT BEGINS HERE____________________

[Page One -- Front Flyleaf]



Isaac H. Jones Book Used at Sabbath School When
80 years old and over

Bought Nov. 4th 1878

[Page Two, Marriages]




Isaac H. Jones and Sarah Brown were married Nov. 2nd 1824
Rev. James Hervey

Josiah McCoy and Hannah Jones were married Nov 23rd 1847
by Rev. Mr. Buchanan

McKinley Jones and Arminda Riggin were married Dec. 5th 1854
by Rev. R.A. Criswell

William Jones and Ellen M. Yates were married Sept. 1859
by Rev George Cairns

David Harvey Sloan and Cynthia Anna Jones were married
Oct. 12th 1865 by Rev. Jonas Stephenson

Charles Sandford Johnston and Mary Jones were married Nov.
20th 1867 by Rev. Laverty Geice

Josiah Jones and Sarah J. Yates were married March 7th 1872
by Rev. Arthur Rose

Rev. Alfred Jones and Lizzie B. Lacy were married June 4th
1879 by Rev. Mr. Smith

[Page Three -- Births Note, there are two pages with identical
information, one pinned on top of the other, but in the same
handwriting. It appears that the pages were removed from an
earlier Bible and placed with this one.]




Parents

Isaac Hardy Jones born Feb. 15th 1798

Sarah Brown born September 9th 1805

Children

Hannah Jones born September 3rd 1825

McKinley Jones born August 19th 1827

William Jones born October 19th 1829

Rachel Jones born Febuary 3rd 1832

James Jones born May 28th 1833

Mary Jones born September 11th 1835

Isaac Jones born January 2nd 1838

Cynthia Anna Jones born Jan. 7th 1840

Josiah Jones born December 28th 1841

Alfred Jones born May 6th 1844

[Page Four -- Deaths There are two pages here
as well.]




Rachel McKinley wife and consort of Ebenezer
McKinley died March 1824

Rachel Jones died Aug 5th 1832 aged 6 months + 2 days

James Jones died Nov. 19th 1836 aged 3 yrs 5 mo
& 22 days

Ebenezer McKinley died June 18th 1849 aged 88 yrs
6 mo & 24 days

Sarah Jones died April 17th 1861 aged 55 yrs 7 mo
& 8 days

Isaac H. Jones died March 3rd 1879 aged 81 yrs
and 16 days

McKinley Jones died Febuary 20 1907

Isaac F. Jones died Oct 16 [??] 1909

Cynthia A. Jones Sloan died April 25th 1915

Mary Jones Johnston, July 20, 1916

[Page Five -- Notes]



Notes from Ruth Sloan's letter, as to her mother's
sickness and death. April 21st her pulse ran low,
she had convulsions but would rally after them.
Was rational except in convulsions. The funeral
was in Blairsville Church, of second King's 6'0 "A
great woman's" the hymns were read "kindly light,
filled with glory", "All through the night", the
closing hymn was "peace perfect peace". So far as
I can make it out she died April 25, 1915.

[Page Six -- Obituary of Cynthia Jones Sloan]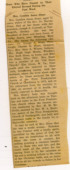 Those Who Have Passed to Their Eternal Reward During
the Past Week

Mrs. Cynthia Jones Sloan

Mrs. Cynthia Jones Sloan, aged 75 years, widow of the
Rev. Dr. Harvey Sloan, died at her home with her
grandson, Joseph S. Criswell, at Vandergrift, Sunday.
She was the daughter of Isaac and Sara Jones, of
Valley Grove, near Wheeling, West Va. She leaves the
following children: Dr. George A. Sloan, Pittsburgh;
Charles H. Sloan, Newport, Ky.; Mrs. Sara S. Wilson,
Indiana; Mrs. Hugh Gage Moody, Windber; Miss Ruth Sloan,
at home and Miss Ida Sloan, Niles Ohio. Mrs. Sloan
was a member of the "Old Stone Church", Elm Grove, W. Va.,
from youth until she removed to Slate Lick, Armstrong
County, with her husband, where she lived about eight years.
Dr. Sloan resumed the pastorate of the First Presbyterian
Church at Leechburg in 1872, and on his retirement from
the ministry in 1896, on account of ill health, the
family removed to Blairsville.

Mrs. Sloan's body was brought here on the afternoon train
on Tuesday and taken to the First Presbyterian church
where the funeral service conducted by Rev. M. M. McDivitt
assisted by Rev. W.A. Roulston, pastor of the First
Presbyterian Church of Vandergrift, was held, and interment
made in the family lot in Blairsville cemetary.

It may be said of Mrs. Sloan that she was a model woman.
Endowed by her Creator with a kindly spirit, sanctified
by the grace of God, her life was an inspiration to all
with whom she came in contact, her smiling greeting
a constant benediction to those who met her, and the
world made all the richer for her having lived in it;
her calmness at the end a striking tribute to her Christian
faith, and an incentive to all her friends to follow in
her footsteps.

----------END TRANSCRIPT--------------------------