Keeney Bible
The Holy Bible Containing the Old and New Testaments,
New York, Robinson, Pratt & Co., 1844. Hills#1200.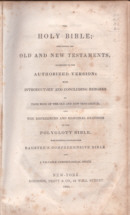 This Bible is in good condition. Its binding is intact with some
scuffing. The pages are all present and in good condition, but
with major foxing related to the paper used.
The Keeney family entries are written on a piece of paper
placed inside the Bible. The Crane entries are on the front
flyleaves. I do not know if the families are related. There
are no family records pages printed in this edition.
The Keeney entries are almost all in the same writing and
pen, written about 1868. The entry after 1868 (in 1869)
is in another pen and handwriting.
There is a page from a poetry book placed in this Bible.
Transcibed by and in the possession of Tracy St. Claire,
tracy@stclaire.org.
SURNAMES:
KEENEY
BATES
DYE
HART
CRANE

-----------------TRANSCRIPT STARTS-----------------
[Page One -- Sheet with Keeney Entries]
Simon Keeney married to Polly Bates Jany 23 1785
W. G. Dye married Theodotia Keeney Sept 27 1821
Simon Keeney born in East Hartford Conn Jany 15 1766
Polly Bates born in Chatham Conn June 27 1764
Polly Keeney born June 27 1786
Jeremiah Keeney born Oct 27 1788
Simon Keeney born Sept 29 1790
Champeon Keeney born July 7 1794
John Keeney born Oct 16 1797
[Page Two -- Reverse of Page One]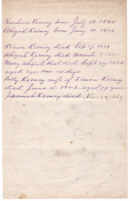 Theodosia Keeney born July 18 1800
Abigail Keeney born Jany 11 1803
Simon Keeney died Sep 17 1831
Abigail Keeney died March 3 1834
Mary Abigail Hart died Sept 29 1835
aged 2 yrs 1 mo 14 days
Polly Keeney wife of Simon Keeney died June 4 1834
--aged 79 years
Jeremiah Keeney died Nov. 22 1869
[Page Three -- Front Flyleaf]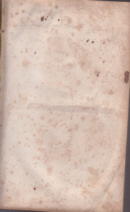 Marriages
Clarifsa and Hosea Crane March 3, 1841
[Page Four -- Deaths]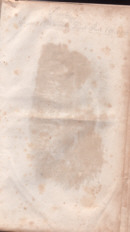 Hosea Crane Died Jan 9th 1850
---------------END TRANSCRIPT----------------