Kelly Bible
The Holy Bible, Sold by Thomas Nelson and Son, New York,
M.DCCC.LXXIII., 1872. (Title page is mostly covered by a photo,
so more details are not available.)
This Bible was acquired by Ann Shirkey and passed on to Tracy
St. Claire. It is currently in Tracy St. Claire's possession and will
be passed on to a descendent.
There are several photos in this Bible, but none are identified.

Transcribed by and in the possession of Tracy St. Claire,
tracy@syclaire.org.
SURNAMES:
KELLY
LEHMAN
COLONY
YARRISON
BAILEY
-----------------TRANSCRIPT STARTS-----------------
[Page One -- Opposite Title Page]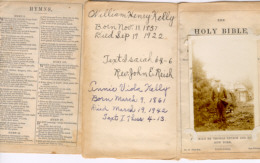 William Henry Kelly
Born Nov. 11, 1857
Died Sep 17 1922
Text Isaiah 64-6
Rev. John E. Reish
Annie Viola Kelly
Born March 9 1861
Died March 19, 1942
Text I Thess 4-13
[Obituary #1]
Mrs. Anna V. Kelly
Mrs. Anna Viola Kelly, 81, widow of William Kelly, died
unexpectedly of a heart attack yesterday afternoon at her
home at Mt. Union, Sugar Valley. She had lived in Sugar
Valley for 66 years, going there from White Deer Valley.
She is survived by two daughters, Mrs. Harvey Lehman,
Loganton, R.D., and Mrs. Fred Colony, Troy, N.Y.; three sons,
William P. of Watkins Glen, N.Y., George M. at home, and
Boise, Loganton, R.D.; six grandchildren, ten great-grandchildren;
a brother, Harry Yarrison, and a sister, Mrs. Leona Bailey, both
of Jersey Shore.
Funeral services will be conducted at 2 p.m. Sunday at the
Morris Funeral Home, Loganton, by the Rev. Arthur F. Yeagy,
pastor of the Sugar Valley Lutheran Parish. Interment will be
made in the Limestone Cemetery in Nippenose Valley.
Thursday March 19 1942 (handwritten)
---------------END TRANSCRIPT----------------