LeFevre Bible
The Holy Bible Containing the Old and New Testaments,
New York, American Bible Society, 1842.
This Bible is in OK condition, with the binding in good
shape with scuffing, but some leaves coming loose from the
signatures, and some tears and foxing.
The title page is signed Mary Boyles, and the front flyleaf
is signed with her name and "Westville Ohio". I do not know
how or if she is related to this family.
Transcribed by and in the possession of Tracy St. Claire,
tracy@stclaire.org.
SURNAMES:
LEFEVRE
ARNOLD
WOLF
WILSON
BOYLES
-----------------TRANSCRIPT STARTS-----------------
[Page One -- Births]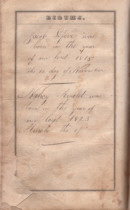 Jacob Lefeve was born in the year of our lord 1815
The 12 day of November
Nancy Arnold was born in the year of our lord 1823
March the 11 [or 17]
[Page Two -- Births]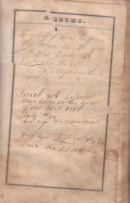 Henrietta Jane LeFever Was born in the year of our Lord
1848 December the 23rd Her sign is Sagitarius the bowman.
Jacob A LeFever was born in the year of our Lord 1851
July the 12 his sign the capricorn
George Lefere 1854 was the 20 October
[Obituary -- Mrs. Belle Wilson]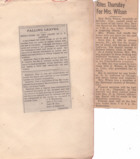 Mrs. Belle Wilson, formerly of Boulder, Colo., passed away
at the home of her niece, Mrs. Harvey Byers on the Mansfield
road, at 7:30 a. m., today, following a lingering illness.
Mrs. Wilson had made her home with her niece for the past three
and a half years.
Born Oct. 8, 1864 in Adams county, Pa., she was the daughter of
Jacob and Margaret Wolf LeFevre. The family moved to Holmes
county, Ohio, in 1867.
As a young woman, Mrs. Wilson engaged in dress making and
millinery business. For a number of years, she was a partner in
the Fike-LeFevre company.
In 1909, she was united in marriage with A. Wilson, at Boulder,
Colo., who preceeded her in death.
She is survived by one brother, G.G. LeFevre of Chicago, and
seven nieces and nephews.
Mrs. Wilson was a member of the Episcopal Church of Boulder,
Colo.
Funeral services will be held at 2 p. m., Thursday, at the Denbow
and Bear funeral home with Rev. G. A. Clymer officiating. Burial
will be made in the Mansfield cemetary.
Friends may call at the funeral home from 7 to 9 p. m., Wednesday.
[Clipping -- Death of P.P. LeFevre]
FALLING LEAVES
RESOLUTIONS ON THE DEATH OF P.P. LEFEVRE
It has pleased the Great Judge of us all to call another from our ranks
to appear before him, the last of tribunals. Although not long in our
midst and young in his profession, we learned his kindness of heart
and worth of mind. He was pure in thought and honest in action;
persistent and industrious in fitting himself for his vocation.
Resolved, That in the death of our brother P.P. LeFevre, the Bar of
Ashland county has lost one of its most promising young members,
and his family a kind and affectionate son and brother.
Resolved, That in this sad bereavement we tender the family and relatives
of our deceased brother our sincere sympathies.
Resolved, That a deputation of the Bar be appointed to accompany
the remains to Nashville, Ohio, his former home.
Resolved, That a copy of these resolutions be furnished the family of
the deceased and that the Court at its next meeting be requested at its
next meeting be requested to order the same entered upon its Journal,
and that the newspapers of the county be requested to publish them.
C.P. WINBIGLER
DON F. TAYLOR
JOHN W. FRY
BENJ. S. GROSSCUP
Committee

---------------END TRANSCRIPT----------------