Mabb Bible
This Bible was submitted by Ella Kemp (ellakemp2000@yahoo.com).

"This Bible is in my possession. I got it from the "Black Shutters" antique store in Victory Mills, Saratoga Co., NY some years ago. Maybe late 70's. Unfortunately, the front pages where publisher and date would be found are missing. The book is old and not in great shape. Pages are very brown and ink is brown. I believe the entries to have been made at the time of the events, although by different people. The quality of the script seems to differ quite a bit.

Please feel free to use this information."
SURNAMES:
MABB
NEWELL
RILEY
-----------------------------------------------------------------------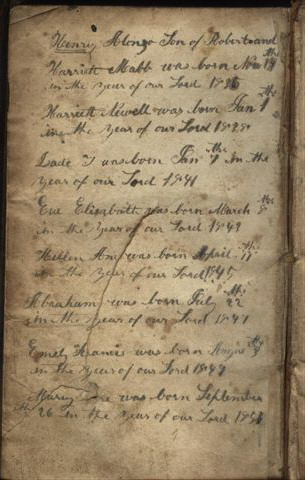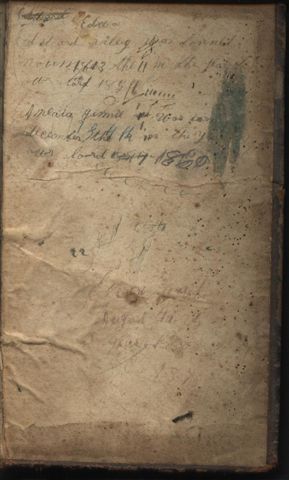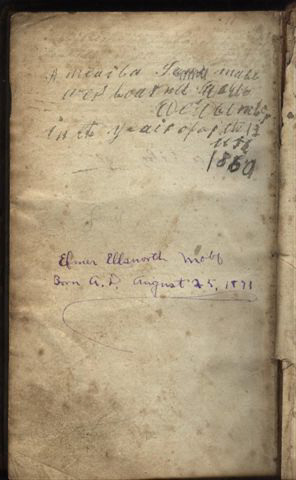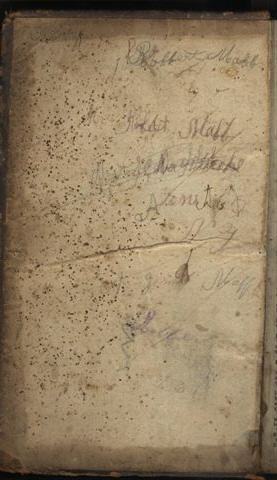 Henry Alonzo son of Robert and Harriett Mabb was born Nov. the 14 in the year of our Lord 1836
Harriett Newell was born Jan. the 1 in the year of our Lord 1838
(?)ade (?) was born Jan the 7 in the year of our Lord 1841
Eve Elizabeth was born March the 8 in the year of our Lord 1843
Hellen Ane was born April the 11 in the year of our Lord 1845
Abraham was born July the 22 in the year of our Lord 1847
Emely Francis was born August the 3 in the year of our Lord 1849
Marey (?) was born September the 26 in the year of our Lord 185(1?)
[end of transcription on last page]
[The writing on, and condition of, the other pages is really poor.]
inside back cover
[Some things are scratched out. Looks like attempts at Edward.]
Edward Riley was [ born? Looks like too many letters. Almost looks like found or bound.Maybe borned.] November the 11in the year of our Lord 1854(?)
Amlaia Jennie(?) was born December the 19 in the year of our Lord [1857 crossed out] 1860
[This is just a guess; Elmer was born August 25 1876]
[end of inside back cover]

[next to last page in back]

Amealia Jennie (?)Mabb(---------------------------------?)
Elmer Ellsworth Mabb born AD August 25, 1871
[end of page]