Marsey Bible
The Holy Bible Containing the Old and New Testaments, New York, G.
Lane & P.P. Sandford, 1842. For the Methodist Episcopal Church.
Not in Hills, but consistent with Hills 1193 of the same publisher, dated 1844.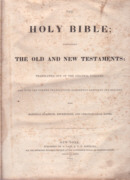 This Bible is in very good condition, with the original binding intact but very
loose. All pages inside are in good condition, but I cannot guarantee all
original engravings are there. There is a lock of blonde hair with a ribbon,
a poem and an obituary stuck within the Bible.
The handwriting gets really bad, and so my transcription of the later entries
may be way off. Use at your own discretion, or better yet, check the scans
yourself.
Stanford Marsey is found in the Company C, 145 Indiana Infantry service in
the civil war. His widow is noted as "Emily" in pension documents.
The Kaeck family is found in Shelby County, Ohio.
Transcribed by and in the possession of Tracy St. Claire, tracy@stclaire.org .
SURNAMES:
MARSEY
MARSY
KAECK
VAN TUYLE
VAN TYLE

-----------------TRANSCRIPT STARTS-----------------
[Page One -- Marriages]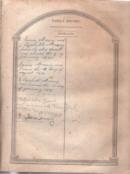 James Marsey and Elizabeth Marsey formily Mcdowell was maried the 9
of february 1840
James Marsey was bornd the 13 day of august 1816
Elizabeth Marsey was bornd the 14 day of january 1818
Mr. Chas Kaeck and Minnie Van Tyule war marriager 20 January
[Page Two -- Births]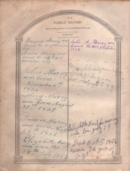 Stanford Marsey was bornd the 30 of desember 1841
Mariah Marsey was bornd the 24 day of desember 1843
John Marsey was born November 6th 1846
Mary Marsey was born August 31st 1849
James Marsey was born Nov 26th 1851
Elizabeth Marsy was born the 28th July 1854
Sallie M. Marsey was borned the 21 of October 1856
Magdlena grandma Kaeck her was born 6 Oct 1849
Elzabth Vantyle Marsey was bon July 28
Died Oct 5 1926 was 72 yrs of age
[Page Three -- Titled Baptism]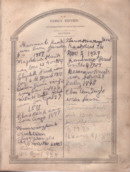 Harman C. Kaeck was born Janar 11 1919
Magdalena Kaeck was bon 6th March 1918
Oseborn James May 12 was born in 1924
Manse [??] Vetyl Kaeck was born April 27 1881
Chas Kaeck was born Aug 4 1877
Minnie May Kaeck died then she 47 year old and
16 month 6 May
mother died 11 [??] of Jan 1928
Gandma Magalena Kaeck died the Nov 2 1929
grandma bured on the 4 1929
Herman Kaeck was born 25 July 1848
Chas Van Tyle was born
Herman Kaeck did 13 of May in the year of 1930
He was 81 year of age
[Page Four -- Deaths]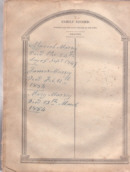 Mariah Marsey Died the 24th day of Sept. 1849
James Marsey Died Feb 11th 1854
Mary Marsey Died 13th March 1854
[Obituary]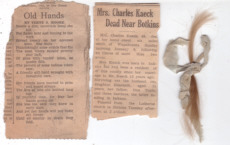 Mrs. Charles Kaeck Dead Near Botkins
Mrs Charles Kaeck, 48, died at her home about six miles south of Wapakoneta
Sunday morning, January 6, following an illness of more than two years.
Mrs. Kaeck was born in Indiana but had been a resident of this county since
her marriage to Mr. Kaeck 13 years ago. Surviving are the husband, one daughter,
Elizabeth, aged 11 years, her father, Dan Tuyle, and three brothers, the latter
residing in Indiana.
Funeral from the Lutheran church in Botkins Tuesday afternoon at 2 o'clock.

---------------END TRANSCRIPT----------------