McCray Bible
The Holy Bible Containing the Old and New Testaments,
New York, Carlton & Porter, 1860. Hills #1720.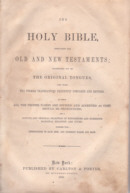 This Bible is in poor condition. The binding has nearly
disintegrated but the interior pages are in much better shape.
Has a musty smell and may have seen some water in
its time.
There is a lot of stuff in this Bible. A couple pieces of early
cellophane, newspaper clippings with recipies, helpful
hints, poems and a description of consumption, a special
order blank for Egyptian Regulator Tea, fabric (one piece
with embroidery, and a small banner invitation to a Sunday
School picnic.
Transcribed by and in the possession of Tracy St. Claire,
aaf@ais.net.
SURNAMES:
MCCRAY
HAMILTON
MCBIRNEY
GOODIER
BENJAMIN
BUTTS
-----------------TRANSCRIPT STARTS-----------------
[Page One -- Marriages]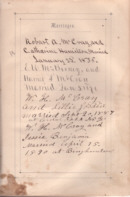 Robart A. McCray, and Catharine Hamilton, Married January 23,
1856.
E. W. McBirney, and Harriet S. McCray Married Jan 5, 1871
W. H. McCray and Lillie Goodier married Sept 20, 1887 at
Cedar Lake N.Y.
W.H. McCray and Jessie Benjamin married April 15. 1890 at
Binghamton
[Page Two -- Marriages]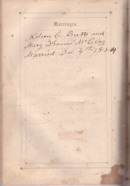 Nelson C. Butts and Mary Frances McCray Married Dec 4th 1884
[Page Three -- Births]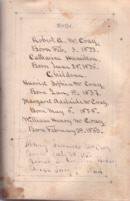 Robert A. McCray, Born Feb. 5. 1822.
Catharine Hamilton, Born June 28, 1826.
Children,
Harriet Sophia McCray, Born Jan. 19, 1857.
Margaret Adelaide McCray, Born May 6, 1858.
William Henry McCray, Born February 29, 1960.
Mary Frances McCray Born July 20 1862
Robert Hamilton McCray Born July 7th 1864
[Page Four -- Deaths]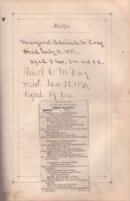 Margaret Adelaide McCray Died July 15, 1861.
aged 3yrs, 2m. and 9 d.
Robert A. McCray Died Jan 26, 1879.
Aged 57 yrs.
(+ newspaper clipping of poem "Dust to Dust")
---------------END TRANSCRIPT----------------