McKee Bible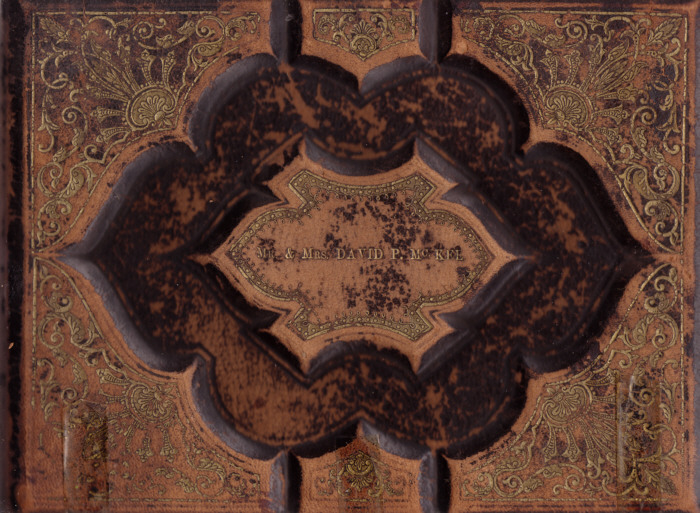 The Holy Bible Containing the Old and New Testaments, Philadelphia,
William W. Harding, 1871. Hills #1867.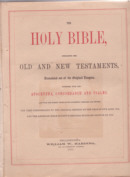 This Bible is in fair/good condition. The binding is intact by use of some
packing tape (or something) that completely covers the spine and
prevents a better look. The inside pages are in good condition, with
a few separated from the signatures, including the family pages. On
the cover MR. & MRS. DAVID P. Mc.KEE. is gilded.
The first three pages are in one handwriting. The last page has two
different handwritings, for a total of three handwritings present.
Some Internet sources place this family in Perry Co., Pennsylvania.
Transcribed by and in the possession of Tracy St. Claire,
tasaint@comcast.net .
SURNAMES:
MCKEE
SMITH
GROVE
-----------------TRANSCRIPT STARTS-----------------
[Page One -- Marriages]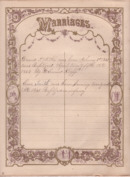 David P. McKee was born Febuary 1st 1841 was Baptized April
twenty-fifth AD 1863 By D. Earnest Klopp
Eave Smith was born January twenty-sixth A.D. 1841 Baptized
in infancy
[Page Two -- Births]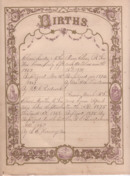 Clara Saida McKee Was Born July fifth 1867.
Baptized Nov. 16th 1867
By W.D.C. Rodrock
Elma Myrtle McKee was born September thirteenth A.D. 1868.
Baptized March Sixth A.D. 1869
By S. E. Herring Rev
Mary Elen. McKee was October [sic] ninth A.D. 1871
Baptized in 1872
By Rev. F. S. Linderman
Annie Norah McKee was born April tenth A.D. 1875
Baptized 1875
By Rev. F. S. Linderman
[Page Three -- Births]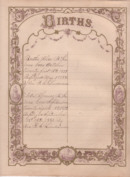 Bertha Alice McKee was born October twenty-first A.D. 1877
Baptized May 1st 1880
By Rev. F.S. Linderman
Ida Florence McKee was born September twenty-eighth A.D. 1879
Baptized September 18th A.D. 1880
By Rev. F.S. Linderman
[Page Four -- Deaths]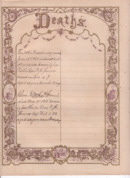 Eve McKee passed away on Wed. Jan. 15th 1908. interment Sat.
18th 10 AM Sermon by her Pastor Rev. P.H. Hoover based on
Tim. 4-7 aged 66 years 11 months 19 days
Clara S. McKee Grove died May 9" 1910 sermon by her Paster
Rev. P.H. Hoover text Phil 1-23 aged 42 years 10 months and
4 days
---------------END TRANSCRIPT----------------