McMinn Bible

These pages were separated from a Bible. The pages numbers
at the top match those of early 19th century Mathew Carey
Bibles.
Transcribed by and in possession of Tracy St. Claire,
tracy@stclaire.org .
William McMinn is found in the 1860 Centre County, PA, federal
census with wife Ellen, Ebenezer and Catharine. He is a farmer,
and all those in the household were born in Pennsylvania.
William McMinn 79
Ellen McMinn 74
Ebenezer McMinn 23
Catharine McMinn 21
SURNAMES:
MCMINN
MCCALMONT
LUKENS
PURCELL
WOODS
-------------------------------------------------------
[Page One -- Marriages]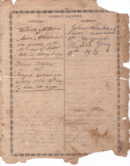 William McMinn & Anne McCalmont was Married on the 12th
day of Sept. 1811. in Nittany Valley
William McMinn and Margaret Lukens was maried on the 30th
day of June AD 1835
John Lukens was married to Margaret Purcell Jany 11th 1813.
[Page Two -- Births]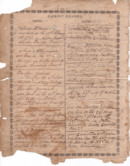 William McMinn was born on the 17th February AD 1781 in
Ashton Township Chester County Pennsa.
Anne McCalmont was born on the 2nd Feb'y AD 1791 in Centre
County Centre Township, Pennsa.
Our Son Joshua was born on the 5th Sept. AD 1812 in Nittany
Valley
Our Son Jeremiah was born on the 28th Jan'y AD 1814 in
Potters Township Centre County
Our Daughter Jane was born on the 7th day of April AD 1816
at 12 O'Clock at night in Potter Township Centre Co.
Our Daughter Maria was born the 28th January AD 1818 at
8 O'Clock in the morning in Potter Township Centre County.
Our Son Thomas was born on the 16th day of March 1820
in Potter Township Centre County Penna.
Our Son William Forrest was born on the 13th day of March
1824 in Potter Township Centre County
Our Son John was born on the 11th day of February 1827 in
Potter Township Centre County Penna
Margaret Lukens was born on the 24th day of March AD 1797
Our Son Ebenezer Erskine was born on the 22d day of Decr
1836 on the afternoon in Potter township Centre County Penna
Our daughter Catharine was born on the 26th day of March AD
1838 in Potter Township
[Page Three -- Births/Deaths]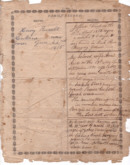 Henry Purcell Lukens was born June 22nd 1815
Jofhua Died on the 11th April 1813 aged 7 months & 6 days,
& was buried in Lick Run Burying Ground
My beloved wife Anne died on the 13th day of September 1832
aged forty one years seven months and eleven days, & buried
in Sinking Creek burying ground beside her sister Sarah Woods
"The troubles then offered the just
in number ?? be,
But yet at length out of ?? ??
the Lord doth set them free."
My beloved wife Margaret died the 30th day of March AD 1844
aged 47 years & was buried in Sinking Creek burying ground
beside my former wife Anne Potter Township Centre County
-----------------------------------------------------------------