Morgan Bible
This is a Welsh Bible, published in Abertawe. Y Bibl
Cysegr-Lan, Sef Yr Hen Destament A'r Newydd,
Gan Y Parch. R.T. Howell. Abertawe. No date, but
based on the color prints and wedding date, I would guess
1890-1910.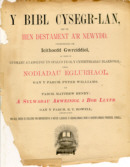 The Bible's binding and pages are in poor repair, but the latches
are present and in good shape. The spine is completely
missing, and it appears that someone removed plates for sale
separately.
There is a photo printed on plain paper of Charles Evans Txxxxx
(too dark to read) in the front.
The headers and such for the family pages are in Welsh, and I
am not going to attempt to transcribe most of that. However, the entries
are all in English, with the family residing in Scranton, PA.
The Social Security Death Index has Maynard C. Morgan of this birth
date dying on 14 Feb 1992.
Transcribed by and in the possession of Tracy St. Claire,
tracy@stclaire.org.
SURNAMES:
MORGAN
MORGANS
JONES
LLOYD
THOMAS
-----------------TRANSCRIPT STARTS-----------------
[Page One -- Marriages]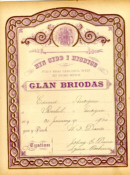 Edward Morgan
Rachel Morgan
31 January 18/95
gan y parch W. F. Davies
Tystion John E. Davies Lydia Richards
[Page Two -- Priodwyd]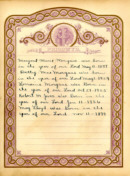 Margaret Marie Morgans was born in the year of our Lord
May 11 - 1897
Betty-Mae Morgans was born in the year of our Lord
May 2 - 1924
Lorraine Morgans was Born in the year of our Lord
Oct 27 - 1925
Robert M. Jones was Born in the year of our Lord
Jan 11 - 1856
May Lloyd was Born in the year of our Lord
Nov 11 - 1874
[Page Three - Ganwyd]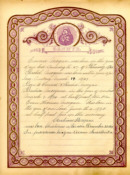 Edward Morgan was born in the year of our lord Tuesday
th 27 of Febrewery 18/65
Rachel Morgan was born on the year of our Lord Tuesday
March 14 18/67
Born to Edward & Rachel Morgan.
Beatrice Morgans in the year of our Lord March 7 18/96 at half
past ten p.m
Evan Thomas Morgan. Was born in the year of our Lord June
th 4 18/98
Christmas Morgans was born Christmas afternoon December 25
1899 in Provedence. Wayne Avnue. Scranton P.a
[Page Four -- Bu Farw]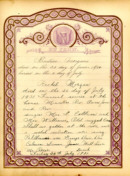 Beatrice Morgans died on the 30 day of June 18/96 buried
on the. 2. day of July
Rachel Morgan died on the 20 day of July 1931 Funeral service at the
house Ministers Rev. Owen Jones and Rev.
Singers Mrs. L. Colburn and Mrs. Williams. Old rugged Cross
Shall We Gather at the river and a welsh selection were sung.
Pallbearer's were George Davis, Dan Coleman, Simon James,
Will Lewis, Mr. Reese
Friday 24th July 1931 Buried
[Page Five -- Blank Sheet After Family Records]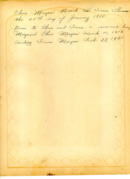 Chris Morgan Married Irma Thomas the 25th day of January 1918.
Born to Chris and Irma a son and daughter
Maynard Chris Morgan March 10, 1919
Audrey Irma Morgan Feb. 28, 1921
---------------END TRANSCRIPT----------------