Morris Bible
This Morris Bible was submitted by Betty Latta Kitchen. It is in her possession, having been passed down through her family. The family was from Monroe County, Ohio. Her address is: 3505 E. Aurora Road, Twinsburg, OH, 44087; phone 330 425 2304.
The Bible was originally in possession of:
Henry Gustler (Gusler) Morris (b.3 Dec 1798; d.6 Nov 1875)
+Mary Kinkade (b. 1 Feb 1804; d. 9 Oct 1865)
"The first page of FAMILY RECORD has a column for MARRIAGES and a column for BIRTHS. When the right column of births became filled with Morris children, Mary Jane Morris, who received the Bible from her father, recorded the birth of the children belonging to her and John Copeland Latta in the mostly unused MARRIAGES section. All the notes from the Morris children were entered in the old style ink. Nancy Morris, the only Morris marriage recorded, is noted right across from the birth of Ann Morris. Research has shown them to be the same person--Nancy Ann Morris who married Robert Leek. All of the Latta entries were done in pencil, and some erasures and changes can be noted. Although the birth of Allen F. Latta is in the correct order, the correct year of 1869 was changed to 1874 some place along the line."
SURNAMES:
MORRIS
LATTA
LEAK
KINKADE
-------------------------------------------------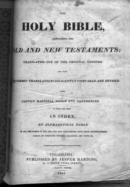 THE
HOLY BIBLE
CONTAINING THE
OLD AND NEW TESTAMENTS:
TRANSLATED OUT OF THE ORIGINAL TONGUES
AND WITH
THE FORMEP TRANSLATIONS DILIGENTLY COMPARED AND REVISED.
WITH
CANNE'S MARGINAL NOTES AND REFERENCES
TO WHICH ARE ADDED
AN INDEX;
AN ALPHABETICAL TABLE
OF ALL THE NAMES IN THE OLD AND NEW TESTAMENTS, WITH THEIR SIGNIFICATIONS;
TABLES OF SCRIPTURE WEIGHTS MEASURES, AND COINS, &c.
_____________________________________
PHILADELPHIA:
PUBLISHED BY JESPER HARDING,
No. 57 SOUTH THIRD STREET
__________
J. HARDING, PRINTER
__________
1842
--------------------------------------------------------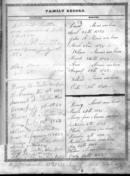 FAMILY RECORD
MARRIAGES.
BIRTHS.

Allen F. Latta
was married Feb.
5th 1892.

David Morris was born
April 26th 1823
David W. Latta
was born July 1st
1881.

John A. Morris was born
March 22nd. 1825

Wilson Morris was born
March 20th 1827
Nancy Morris was married
April 14th 1850

Ann Morris was born
August 29th 1829
Henry H. Latta Was Born
February the 13th 1862

William Morris was born
Oct 1st 1831
Samuel S. Latta Was
Born July 8th 1864

Henry Morris was born
March 28th 1835
Thomas L. Latta Was
Born July 18th 1866

Mary Jane Morris was born
September 6th 1837
Allen F. Latta Was
Born February 15, 1874

Phebe Morris was born
December 4th 1839
Louisa E. Latta Was Born
March 30th 1871

Rachel Morris was born
May 24th 1842
Mary B. Latta Was Born
May the 23rd 1874

Thomas Morris was born
July 13th 1845
John T. Latta Was Born
September the 21st 1876

Sary L. Morris was born
Sept 15th, 1847
[My note: this was the very bottom of the page so the last child of Mary Jane and John Copeland Latta was entered at the top--my grandfather, David W. Latta.]
----------------------------------------------------------------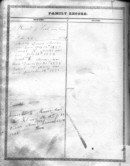 On the back of the FAMILY RECORD page the birth of a few of the grandchildren were noted.
FAMILY RECORD
BIRTHS.

DEATHS.

Harriet J. Leak was born
Feb 22 1851

Mary Louisa Morris
was born May 17th 1853

Daniel H. Morris was
born July 12th 1854

David A. Morris was
born December 21st 1855

Robert W. Morris was
born November 12th 1857

Leucta L Morris was
Born February the 11th 1872

Diann Morris was born
December 14th 1873
_________________________________________________________________________________________
This Bible submitted by the great, great granddaughter of Henry Gusler Morris: