Mount Bible
These pages were removed from one Bible and placed with
another Bible (an 1813 Evert Duykinck, New York Bible)
of the same general family. I cannot tell from just these
pages from which Bible it originated, but it would be reasonable
to assume it was from a Bible older than the 1813 Bible.
These pages were folded and probably carried around. I have
seen lists like this that were carried as proof of births, deaths and
marriages for official government things like pensions, homestead
applications, censuses and such. John Mount might have used this
for a Revolutionary War pension.
All entries 1819 and before are in one hand, the ones after that are
in several different writings.
A LOT of these children survived to adulthood to marry
(more than I would expect).
This family was in New York.
Transcribed by and in the possession of Tracy St. Claire,
tracy@stclaire.org.
SURNAMES:
MOUNT
VAN VECHTEN
ABLE
VAN DEAVER
VAN DOREN
VOORHEES
SIMSON
PERRINE
FAULKNER
-----------------TRANSCRIPT STARTS-----------------
[Page One -- Marriages]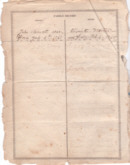 Matthias Mount & Elizabeth Van Vechten was married Jan. 10th:
1810
Jacob Able & Margaret Chamberlin Mount was married Jan 11th
1810
Cornelius Mount & Mary Van Deaver was married Dec 30th
1810
John Able & Mary Voorhees Mount was married Sep 13th 1815
Isaac Van Doren & Elizabeth Voorhees Mount was married Feb 12th
1817
Voorhees Mount & Eleanor Van Doren was married June 20th 1819
John Mount & Elizabeth Voorhees was married Feb 6th 1783
Elijah Mount & Maryan Simson was married Jan 18th 1826
Lewis P. Perrine & Katherine Voorhees Mount was married
March 8th 1826
John Mount & Elizabeth Perrine was married Oct 2d 1827
John H. Faukner & Elizabeth Voorhees Mount was married August
12 1828
[Page Two -- Births]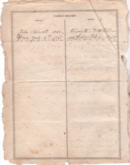 John Mount was Born July 4th 1761
Elizabeth Voorhees was Born Feb. 4th - 1765
[Page Three -- Births]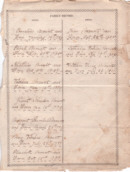 Cornelius Mount was Born January 14th 1784
Elijah Mount was Born Dec. 30th 1785
Mattias Mount was Born Oct. 5th 1787
Voorhees Mount was Born Jan. 16th 1790
Gilbert Snowden Mount was Born Jan. 18th 1793
Margaret Chamberlin Mount was Born March 25th 1794
Mary Voorhees Mount was Born July 23d 1797
Elizabeth Mount was Born Oct. 15th 1799
John Mount was Born Oct. 28th 1805
Catherine Voorhees Mount was Born Sep 19th 1808
William Henry Mount was Born July 26, 1811
[Page Four -- Deaths]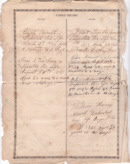 Elijah Mount Departed this Life March 3d 1786
Aged 2 months & 3 Days
Isaac C. Van Doren Departed this Life August 28th
1821 Aged 24 years & 6 months and 16 days
Gilbert Snowden Mount Departed this Life Dec. 19th
1818 Aged 26 years 11 months & 1 Day
John Mount Departed this life Sept 9th 1848 Aged 42 years
10 Months and 11 days
William Henry Mount this life August the 15 1865
Aged 54 [55 overwritten] years 10 m [??] days

---------------END TRANSCRIPT----------------